Campaign to Help Businesses Navigate Net Zero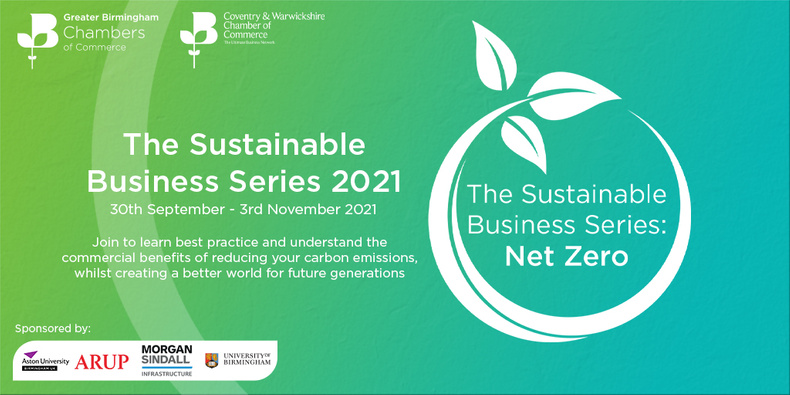 The Greater Birmingham and Coventry and Warwickshire chambers have partnered to deliver the Sustainable Business Series 2021: Net Zero, which aims to improve your business' progress to net zero with practical tips through sharing knowledge, best practice and guidance.
The Sustainable Business Series: Net Zero will include:
Four themed weeks and five webinars
A Summit
Over a month of resources and activities
In April, the Government announced a legislated target of a 78% reduction in CO2 equivalent emissions by 2035 based on 1990 levels (a reduction of approximately 60% from today's levels), to accelerate progress to the 2050 net zero target.
Businesses are already being impacted by these targets and the UK economy is legally bound to meet them.
As a result, businesses have experienced increased environmental concerns, increased consumer and supplier pressure to reduce emissions, and increased environmental contract stipulations.
We know businesses want to take action to address these, but may not have the time, knowledge or resources to navigate this agenda.
That's why we are running this campaign aimed to support business progress to net zero. Join us to:
Gain knowledge, best practice and guidance on reducing your carbon emissions from real-world business leader experiences, perspectives and learnings.
Understand how you can rise to meet the net zero challenge within your business, especially if you're an SME.
Learn how you can start and manage your progress to net zero through four key topics: energy, transport, circular economy, and sustainable business management.
Understand and apply support (financial and non-financial) for the business transition
Build your business' resilience, progress your competitiveness and improve your reputation, whilst reducing your business' carbon emissions.
Content will be delivered through free best practice videos, podcasts, blogs and digital webinars will be published with sponsors and partners.
The campaign will go live at the end of September 2021 and end with a Summit in November.
Join the business community in working towards net zero, and capitalise on the transitions business and economic benefit, whilst protecting future generations.
Places are limited. Reserve your place by registering below
See 'sustainability series' in the events lists and registration here.
Summit registration here.