Construction industry comes together to celebrate outstanding young talent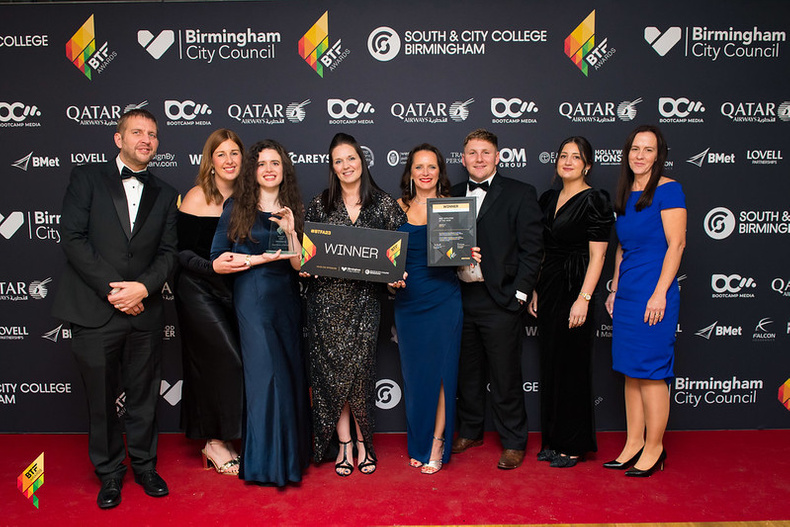 The construction industry came together to celebrate and recognise the invaluable contributions of young individuals at Building The Future Awards 2023.
The event, which took centre stage at Aston Villa FC on November 17th recognises the top young individuals of the construction industry aged 18 to 35.
Founded by Zoe Bennett, BEM, and Errol Lawson, the awards event proved to be an electrifying showcase of talent, energy, and gratitude.
Hosted in a vibrant atmosphere the ceremony brought together luminaries from the construction sector, industry leaders, and deserving finalists for an unforgettable night of acknowledgment.
The dynamic Ed James, DJ from Heart FM, and Damini Sharma from OM Group lent their charisma as the hosts, creating an engaging ambiance for the attendees.
A highlight of the evening was the sensational performance by X Factor finalists LMA Choir, adding a musical dimension to the celebration.
Keynote speeches from the Metro Mayor Andy Street and Deputy Leader of Birmingham City Council Sharon Thompson both brought their inspiring leadership to the forefront as they shared their address over the event, emphasising the significance of fostering young talent in the construction industry.
The Building The Future Awards were proudly sponsored by the Birmingham City Council and South and City College, underscoring the commitment of these institutions to nurturing and supporting the next generation of construction professionals.
George Clarkes charity MOBIE was showcased on the evening which focuses on addressing challenges in the construction industry, and inspiring new ways of thinking about home design, construction, and the built environment.
The room buzzed with energy and excitement as deserving winners were announced and celebrated for their impactful contributions. The awards not only recognised individual achievements but also echoed a collective commitment to bridging the skills gap in the construction sector.
Reflecting on the success of the event, Zoe Bennett said: "The Building The Future Awards were founded with the vision of recognising and valuing the young talent shaping the future of construction. It's heartening to see the electrifying atmosphere and the gratitude expressed by the winners, truly embodying the spirit of the awards."
As the night concluded, attendees left with a renewed sense of inspiration, having witnessed the exceptional talent within the industry and the genuine appreciation for those who are driving positive change.
The Building The Future Awards stand as a testament to the dedication of Zoe Bennett, BEM, Errol Lawson, and the entire team in fostering a community that celebrates, supports, and uplifts the emerging stars of construction.