Five reasons you shouldn't hire me as your copywriter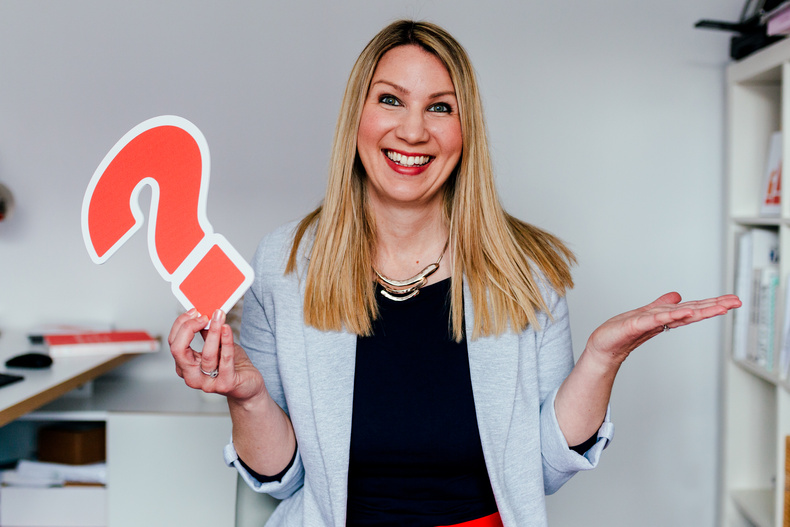 So you're thinking about working with a copywriter?
Maybe you want some persuasive website content that makes clients excited to work with you. Perhaps you need case studies to help you convert a prospect? You might want diamond clarity on your messaging and you need some compelling copywriting to help you stand out.
If that's the case, a copywriter can definitely help.
But, my services might not be the right fit for you.
I know that's probably not what you were expecting me to say (after all, isn't it my job as a writer to use words to sell, not dissuade?) Well yes. But also no. Because I won't be right for everyone. And that's ok.
My copywriting packages work best when I work with the right people who have the right mindset. And this blog will help you work out if I'm right for you.
Here are some reasons you might NOT see success with your marketing when working with a copywriter.
I've also given a top tip for each that will help you get better results if you do end up working with me or another copywriter in the future.
1 You love corporate BS
If you're wedded to statements like 'At company name, we offer a wide range of solutions to meet our customers exacting requirements' your marketing will sound like everyone else's.
Potential prospects won't get a sense of who you are and why you're different. They won't see your personality or values and they won't get a sense of what it's like to work with you. Which means you might attract the wrong kind of clients. Or you might struggle to attract any at all.
You see, effective copywriting is about helping you to stand out amongst all your boring, bland and banal competitors.
It's about getting under the skin of your business and pulling out all the nuggets that make you and your service completely unique (and trust me, even if there are lots of people offering your service, there will be something different about how you do business).
A well worded website, Linked In profile or case study should be memorable and make the reader feel something. It should make your brand stand out and get your brand personality across.
And it's only going to be memorable or emotional if prospects are delighted or surprised by your content. Talk of 'solutions' and 'expertise' just isn't going to give potential clients the 'feels'.
Top tip to avoid the corporate crap
When you work with a copywriter or content writer, ask them to call you out or challenge you if they think you're playing it too safe.
2 You don't have the budget
I'm not a cheap copywriter. I say this because I prefer to be honest and upfront. If you're looking for a cheap copywriter who can write your website content for a few hundred quid, I'm not the best person for you.
I start all my copywriting projects in the same way; with a juicy discovery session full of tried and tested, killer questions designed to help you uncover your superpower.
In fact, asking the right questions is one of my superpowers. And clients tell me they get a real clarity about their business from these sessions. Which is why they're included in all my copywriting packages.
Top tip for small budgets
If you have a modest budget for website copywriting (or website design for that matter) it may be better not to have a website at all. Because if you're in the early stages of your business, you may not be ready for a website. And you may not need one yet.
So try using your Linked In profile as your landing page for any enquiries. Invest some time in making it as complete and compelling as you can (focus on your customer's pain points or problem, be super clear about who you help and be really clear about how you're different).
Direct all your marketing communications to your LI profile link (email signature, leaflets, listings, business card etc.)
Then as your business grows and you want a slicker online presence to match your growth plans, you'll be in a better position to invest in a website that'll do your amazing service justice.
3 You would do it yourself and you only outsource because you haven't got time
"I would write it myself but I haven't got time."
I hear this a lot. It normally means one of two things. A) You're a really good writer or B) you don't really understand what a copywriter does and you may not value the skills, research and experience behind copywriting.
The thing is, if you don't understand or value something, you'll probably want to change it. Which means lots of amends, a drawn-out approval process and copy which has been chopped and changed so many times, it loses its rhythm. And all those persuasive writing techniques lose their power.
If you're a good writer, the question is do you have the ideas? This may surprise you, but copywriting isn't just about compelling words. It's also about brilliant ideas. It's about finding an unusual angle, a theme or a golden nugget that helps you stand out. And then communicating this idea in a way that is both clear and compelling so that potential clients understand what you do and see that you understand them.
Top tip for the first read
When you receive your copy from a copywriter, be prepared for the fact that it WILL be very different to what you currently have or to what you might write yourself. Otherwise what's the point?
Most importantly when you read the copy, pretend you are one of your ideal clients. Think about how it will resonate with them and their pain points.
4 You're a stickler for grammar
I'm a stickler for copy that's clear and unambiguous. I love semicolons. And I can't bear a misplaced apostrophe. But, I also like to start sentences with coordinating conjunctions. Sometimes, I split one sentence into two. For effect.
So if you're a stickler for old-school grammar, this might be a dealbreaker for you. It's personal preference. And I'm ok with that. So if these sentences are making you reach for your red pen, I may not be the copywriter for you.
Top tip for choosing the right copywriter
If you do decide to work with a copywriter, it's a good idea to ask for examples of their work so you can get a feel for their writing style and the techniques, devices and grammar rules that characterise their work.
5 You're just starting out and you're not very clear on your service offering
When you're starting out, there's so much to do to get ready for a launch, it feels obvious to outsource or delegate your copywriting, especially for your website.
But when you're starting out, it takes a while to figure out what services you love to deliver (and which are most valuable for your lovely clients). You might start out offering one service, only to realise that you don't enjoy it. Or it takes you too long and it's not financially viable. Or that there's no market need.
If you're not crystal clear on your services, it's very difficult to write copy that accurately captures what you do, how you do it and how your service solves your client's problem.
Which means you'll either end up needing to change the copy a few months in. Or, it will feel incomplete because your services and packages aren't fully formed.
Top tip for a clear brief
If you are thinking about working with a copywriter, make sure you're clear on (and happy with) the services your clients need and the services you love to deliver. So your copywriter can draw out all those nuggets about why you're so ace at delivering them. And how you do it differently to everyone else.
There you have it. The reasons you shouldn't choose me as your copywriter.
It's really important to me that you know what these are so you can make the right choice and avoid wasting time and money.
If, however you love the sound of this blog (and you've already snuck a peak at some of Lexicomm's client projects), you're trying to disrupt your industry and you're dying for punchy copy that helps you stand out and is the envy of your competitors, then I'd LOVE to talk to you.
Book a 45 min amp up session and get clarity and direction on copy that makes your marketing work harder.
Lexicomm is a copywriting agency for business owners that want to stand out. Find out more at www.lexicomm.co.uk, www.linkedin.com/in/anitaellis/ or by calling 07813 829 711