How the modern workplace is changing and how the micro market can help yours adapt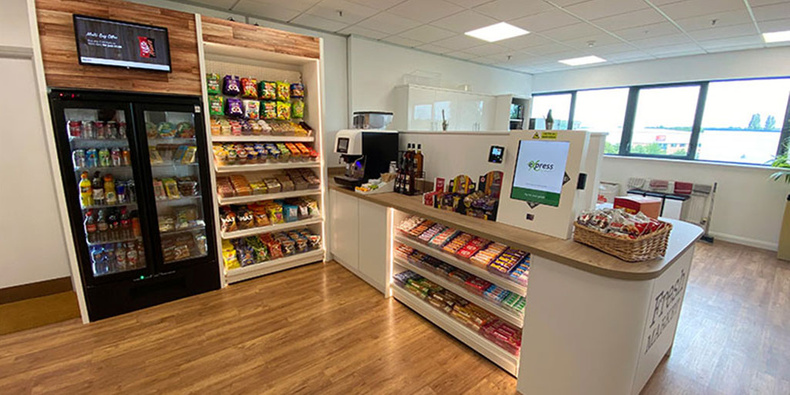 Covid-19 will leave a lasting impression on all aspects of our lives. And as we spend such a huge amount of time in the workplace, it is vital that you create a safe environment that your employees feel comfortable in. How can they stay motivated and productive if they aren't?
The Micro Market is arguably the most hygienic on-site refreshment solution. It always has been since we introduced the first Micro Market to the UK in 2013. That makes it the perfect solution as you begin transforming your workplace to start welcoming your team back, whenever that may be.
How the modern workplace is changing…potentially forever
It is strongly believed that the traditional "9-5" shift will soon be no more.
Covid has taught us to be respectful of personal space and this is something that won't disappear even when, or if, Covid itself ever does.
Many of the regulations that have been present in the lives we have all led over the past 12 months will be here to stay. If anything, you could argue that Covid has taught us a welcome reminder of basic health, safety and hygiene.
And if we can continue to promote these values without too much effort, then most of us will surely do so.
Fixed working hours will only see staff needlessly congregate and run the risk of passing viruses on, even something as seemingly "minor" as the common cold.
Instead, more workplaces are implementing staggered shift patterns to continue with social distancing. The importance of reducing shared touch points in public and working environments will remain. And we will do anything and everything we can to reduce the transmission of viruses and bacteria.
Of course, we all want to get back to normality as soon as we can. But the point here is that some implementations and transformations will continue to be needed - and actually wanted. And they don't have to be complex.
So how can you get your workplace prepared for the comfort of your team?
The Micro Market is needed now more than ever
Workplace refreshments have always been a simple yet valuable tool to boost the morale of the workforce, which in turn can lead to a higher productivity level.
You probably know this already. After all, most workplaces will utilise a communal kettle at the very least, or perhaps a workplace canteen for their staff.
But the Micro Market is a much better solution. It carries so many benefits including greater flexibility, greater peace of mind and greater value, but the main one to focus on during these unpredictable times is the hygiene aspect.
The Micro Market is arguably the safest workplace refreshment solution around.
It is built on advanced technology to deliver an unmanned solution. Your team can access the Micro Market whenever they need to, choosing from a variety of products including fresh bean coffee, freshly prepared food and low-calorie drinks and snacks. Most of which are pre-packaged.
Payment is made using an advanced self-service terminal, to which every user will have their own account. They can then choose to enjoy a meaningful break time with their refreshments, or "grab-and-go" back to their responsibilities.
It really is a genuine convenience store in the heart of your workplace, one that we design, create and manage for you with ongoing replenishment.
Just from that summary, you may have been able to identify some characteristics that make the Micro Market totally unique for greater peace of mind. But we'll recap them anyway.
A closer look at the hygienic benefits of the Micro Market…
Ideal if you will be abandoning the traditional "9-5" working day, though equally welcome if you have always adopted shift patterns for your team.
The Micro Market is your very own "shop", so you can adopt a one-way system and make it easy for staff to keep their distance from each other.
A welcome benefit to explore closer what you're interested in buying, but also provides a welcome layer of protection.
Eliminate the risk of your team coming into contact with the germs that plague coins and notes. Self-serve also means they don't need to engage with a cashier.
A zero-obligation discussion about the Micro Market
Experiencing the revolution in workplace refreshments - and creating a safer workplace that your team will feel comfortable heading back to - all starts by having a zero-obligation, hassle-free discussion with our team.
The Micro Market is also one of the most personal refreshment solutions that shines a powerful light on company culture. Not one ever looks the same as another. The Micro Market is your location, your size, your shape and your chosen products, and we design, create and manage it all for you.
View our recently revised webpage to learn more about how the Micro Market works. Alternatively, contact us today!
Getting your workplace prepared for a post-Covid world is easy…
Alistair Ward
Coinadrink Limited