How to check if a financial institution is genuine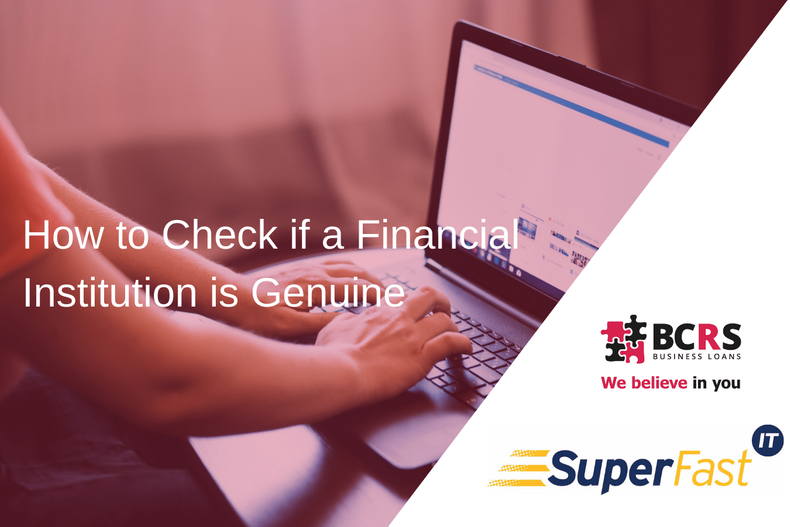 If you're considering dealing with a financial institution, you must ensure they are genuine before using their services.
There's a very simple way to check a financial institutions credentials. All you have to do is look it up on the Financial Conduct Authority (FCA) register. This is a database which holds details of every financial company that's registered and regulated by the FCA. You can search for a company by entering its name and/or postcode.
If a financial services company isn't listed on the FCA website, approach with caution. And remember to check any number on the website.
As a trusted lender, BCRS Business Loans are registered with the Financial Conduct Authority. Ensure you only use the contact details listed on the register to confirm you're dealing with the genuine firm before parting with your money and information.
Working with BCRS to prevent fraud
To help you stay safe from fraud and scams, we adopt the tactics covered in our previous blog posts which you can find here:
We also keep our business safe and secure by deploying best practise cybersecurity. We are Cyber Essentials certified - this means we not only deploy cybersecurity, but are also accredited, having reached the minimum level of security recommended by the National Cyber Security Centre.
We support the 'Take Five to Stop Fraud' campaign, encouraging not only our team, but also our suppliers and clients to stop and challenge suspicious activity.
How can BCRS Business Loans support you?
BCRS is a reputable, responsible, and co-operative lender. We think differently about business finance and are committed to supporting SME businesses across the West Midlands offering loans from £10,000 - £150,000 to kickstart your growth and recovery following the pandemic.
We work closely with partners such as:
The British Business Bank to deliver the now closed Coronavirus Business Interruption Loan Scheme (CBILS) and the current Recovery Loan Scheme (RLS).
Staffordshire County Council and Stoke-on-Trent City Council to deliver the Staffordshire & Stoke-on-Trent Business Loan Fund
Social Investment Scotland
Triodos Bank UK
Click here for more information.
Keep up to date with all things BCRS by following us on social media:
How can Superfast IT support you?
Superfast IT provides managed IT services and cybersecurity packages to small and medium-sized businesses, based in Birmingham, Wolverhampton, Worcester and across the West Midlands. With 20 years' experience, Superfast IT specialises in:
IT support
Cybersecurity
Passing Cyber Essentials
Cloud
Data back-up and recovery
Microsoft 365
Telephones, VoIP (cloud telephony)
IT consultancy
Connectivity - Internet, WiFi, 5G
Fast response and resolution
Over the years, Superfast IT has become synonymous with its industry-leading customer service and a fast response rate, backed by their many five-star Google review ratings.
Small business IT specialists
Today, Superfast IT believes that in the modern digital world, every business is a technology business. This drives their mission to help SMEs be more successful using technology. The team support more than 65 companies and 1,500 people in the West Midlands.
Schedule a call with Superfast IT for more information to find out if they can help solve your IT and security issues for your business.