How To Support Employees Observing Ramadan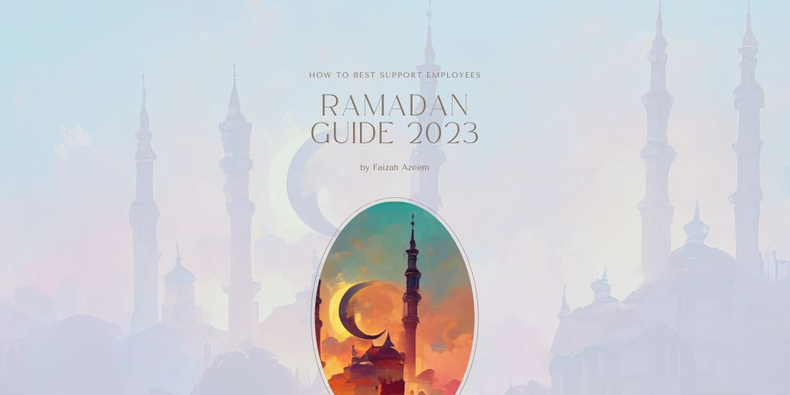 Solihull College & University Centre's Marketing & PR officer and BAME Staff Network Lead, Faizah Azeem, has designed a Ramadan Guide 2023 and CPD Session for organisations to implement good practice and inclusivity during the month of Ramadan.
Ramadan 2023 is set to begin today, 23 March, ending 29 or 30 days later with the Eid celebration. Dates vary depending on the sighting of the moon as the Islamic Calendar is a lunar calendar.
This blog is designed to equip businesses with a better understanding of Ramadan so they are able to better support their employees who will be fasting throughout this period.
What is Ramadan?
Ramadan is the month in which the Quran was revealed to the Prophet Muhammad (peace be upon him) and therefore Muslims increase their prayers and other acts of devotion to God during this month, such as charity and spending time with friends, community, and family.
During Ramadan, Muslims do not eat or drink even a sip of water during daylight hours (dawn - sunset).
The following people are exempt from fasting:
The elderly
People with illnesses
Prepubescent children
Travellers
People who menstruate (during their menstruation days)
People who are pregnant/breastfeeding
Apart from fasting, Muslims also take part in night prayers known as 'Tarawih' which translates to 'to rest'. These are additional optional prayers that can go long into the night. They start after the compulsory night prayer 'Isha' which will start at 21:30 at the latest this year.
How can you be a supportive ally?
Be aware and understand that fasting colleagues may feel lethargic and suffer from headaches and/or dehydration, therefore decreased team participation may be expected.
This year, during the early days of Ramadan, fasting hours will be approx. 04:25 - 18:30 (14 hours) and during the latter days of Ramadan, fasting hours will increase to approx. 04:19 - 20:20 (16 hours). Being aware of these timings can help you understand and exercise more empathy towards employees.
Tarawih prayers may mean a much later bedtime for employees and then having to wake up as early as 04:00 to have a meal to last the day. This only contributes to fatigue and exhaustion which can catch up with people mid-late afternoon.
This year the earliest that Muslims will be able to break their fast/eat is 18:30 and the latest is 20:20, outside of working hours for most. However, if this does clash with any evening meetings or events, allowing employees to be excused for a short period of time would be appreciated so they may eat and perform their obligatory prayers.
Ensure there is a designated multi-faith room for employees to perform their obligatory prayers, not only during Ramadan but throughout the year. During Ramadan, Muslims may increase their devotion to God and therefore you may notice an increased use of any such designated areas for prayer.
Speak to your employees about how comfortable they feel performing their ablution, before praying, in the washroom facilities and whether there is anything that can be put in place to support them.
Where possible, reschedule meetings/presentations/events to times when mental clarity won't be impeded. Later in the day, employees may feel increased exhaustion and some staff may appreciate the time to return home sooner to prepare for the break of fast (iftar).
Discuss flexible working with employees and the option to work from home.


Avoid eating lunch in front of fasting employees, even if they say it's okay (this is generally because Muslims are expected to not create any discomfort for others but they will be hungry and the smells of your lunch may worsen hunger pangs).
In a health emergency, one can break their fast.
There are many more elements to Ramadan, so please have open dialogue with your employees as needs and duties may vary. This is a very brief introduction and use it as a guide to inform your decisions going forward. Each individual experiences the challenges of Ramadan differently and some people are excused from fasting temporarily or permanently.
Be mindful that asking someone if they are fasting can be uncomfortable for various reasons (for example, people who may be menstruating).
Don't hesitate to ask questions! Muslims are experts of their own experiences and have been fasting most of their lives so please ask and trust their guidance.
Inedible dates to be aware of:
As the Islamic Calendar is based on the moon, dates vary!
RAMADAN START DATE: 23RD MARCH 2023
EID: 21ST APRIL 2023
Why it is helpful knowing Eid dates?
Most employees will take this day off as annual leave but as you can't know the exact date of when Eid will be, until in some cases the night before, it would be helpful to be understanding of this and offer flexibility. For example, allowing employees to 'provisionally' book 2-3 days off for Eid and then work the days outside of where Eid lands.
If you have any questions or would like Faizah Azeem to support and train your organisation on how to best support your employees observing Ramadan and implement some of the points above, then contact her at faizah.azeem@solihull.ac.uk.
You can find the Birmingham Ramadan prayer timetable on Islamic Relief's website.