Influential TV host wins ABCC President's Award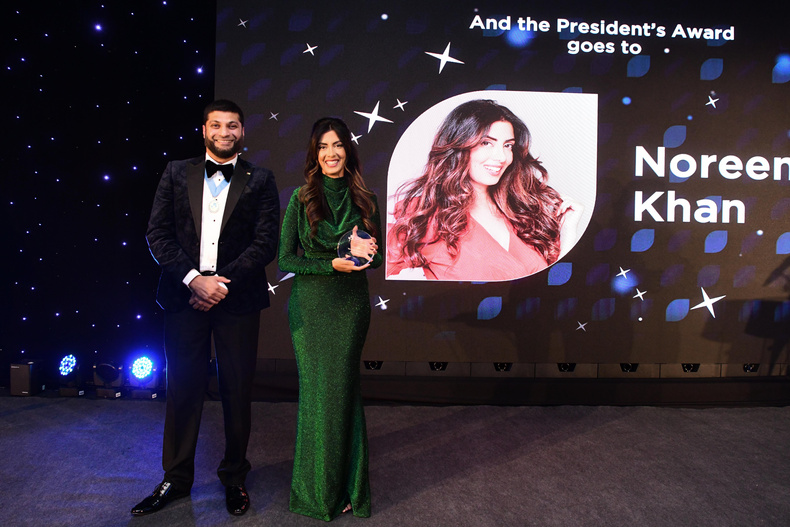 Award winning TV host, radio presenter and comedian Noreen Khan is this year's recipient of the Asian Business Chambers of Commerce President's Award.
The President's Award is given to an individual who has given outstanding contribution or sacrifice for the betterment of society.
The award was handed over to Noreen Khan by president Omar Rashid during the ABCC Annual Dinner and Awards Ceremony held last Saturday at the National Conference Centre, Solihull.
Educational testing service A-Team Academy won Outstanding Small Business of the Year and went onto win the Overall Business of the Year.
In previous years, the President's Award has been awarded to Nobel Peace Prize winner, Ms Malala Yousufzai, Flt Lt Rakesh Chauhan who was an intelligence officer in the Royal Air Force, Harry Moseley, Anita Bhalla OBE DL, and Shani Dhandi.
Before making waves on the comedy circuit, Noreen was a host of the BBC Asian Network for over twelve years and co-hosted the opening ceremony of the 2022 Birmingham Commonwealth Games.
Noreen's inspiration comes from her childhood, where her mother played records in the house, leading her to developing a passion to delve into a profession which involved music.
She has presented some of the most well-known TV shows in the UK, including Back in Time for Birmingham, Countdown, Sport Relief.
Other major accolades for Noreen include co-hosting the Edgbaston T20 cricket tournament, appearing on Celebrity Mastermind, Celebrity Antiques Road Show and Fighting Talk (BBC Radio 5 Live).
In recognition of her talent in on the microphone, Noreen won the Radio Presenter of the Year, Asian Media Awards in 2021.
She stepped down from radio presenting in 2023 and stepped up onto the stage as a comedian. Her show 'Lol (Ladies of Laughter) with Noreen Khan' was immensely successful in 2019, and a second tour was announced for 2020, which had equal success.
Noreen toured all over the UK creating laughs and memories for all who came to the show. Most recently, Noreen was chosen to take part in the Asian Network Comedy E14, held in Birmingham, 2022.
She is now an ambassador for King Charles' charity 'The British Asian Trust' where she does a lot of other work with the Trust by supporting online campaigns around poverty, women and many other projects.
Noreen is also a patron of Asian Women's Resource Centre (AWRC), a voluntary sector grassroots organisation which has been providing services for women who are, or have been experiencing domestic abuse.
In 2017 Noreen started a concept of an all female comedy show line up to help women from diverse backgrounds to help get a bigger platform in comedy.
Speaking about the award, ABCC president Omar Rashid said: "Noreen has played a pivotal role in numerous events over the years, all with a strong focus on female empowerment.
"Whether as an event host, a key figure in event curation, or a motivational speaker, she has consistently championed the cause.
"Noreen's dedication and influence extend beyond these roles, as she has also become a valued role model for the Asian community, inspiring and empowering countless individuals with her remarkable journey."