Three things to consider for your breakout area at work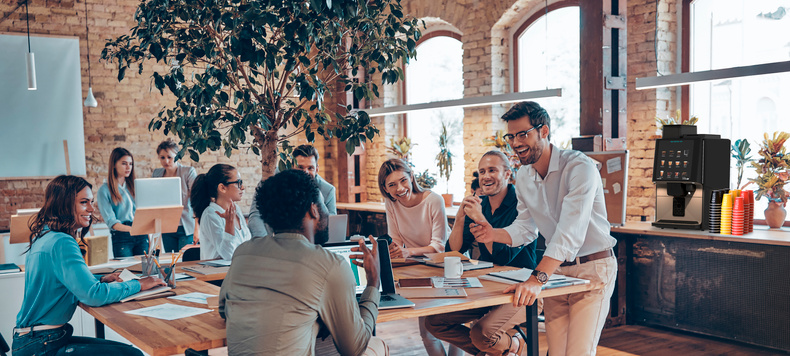 Are you considering a breakout area for your staff at work? It's a great idea! Breakout areas are valuable spaces that should be part of every modern workplace, regardless of your industry.
If you're wanting to kickstart employee wellbeing in 2023 with a breakout area on-site, consider these three things to make it a success.
Give your breakout area a unique theme
You might be tempted to keep the theme of your breakout area consistent with the rest of your workplace, but a breakout area should encourage your employees to escape and switch off from work, even if only for a short while.
Therefore, they will arguably feel more benefit if your breakout area has its own unique theme, one that encourages them to wind down and relax.
Why not look to radiate positivity with bright colours and motivational quotes? You can also think about your furnishings and facilities. Sofas and comfy seating are synonymous with relaxation, but we've also had briefs for breakout areas that take employee wellbeing to a whole new level!
The modern workplace is rapidly integrating facilities such as gaming stations and pool tables into their breakout areas.
Once you remember that a breakout area is supposed to help your team relax, the options are truly endless. This is the workplace in 2023 and we're all for it!
Consider flexible working
Whilst the working world settles into home and hybrid working, it's important to remember that demands from the traditional workplace have changed, too. A lot of employees are now embracing different ways to work.
A noisy office, where you're expected to sit at your desk for up to 8 hours a day, can sometimes threaten wellbeing and productivity. The modern workplace makes it easy for staff to go off and find a way to work that suits them.
A good breakout area houses fresh solutions. Take a look around for some ideas and you'll see that acoustic pods and individual stations are very popular now. Implement them in a corner away from the central activity of a breakout area and you are encouraging high productivity.
In contrast, you should also consider spaces for collaboration and teamwork. Traditional desks make it hard to do this effectively, whereas larger tables make it a lot easier. Sure, this might not be the most exciting benefit of a breakout area, but it's certainly a practical one.
As staff look for motivation to work to their potential, your breakout area is a great way to provide fresh opportunity.
Consider your refreshment facilities
We've established that a breakout area is a surprisingly good location to stay productive, but it goes without saying that this space will primarily be used for its main purpose: to take a break.
These are intervals where employees are likely to want a hot drink or a bite to eat. It makes sense, then to offer these refreshments in the convenience of their breakout area. By doing so, you are making sure employees make full use of the location instead of risking lost work time heading off site.
A simple office coffee machine or water cooler in the breakout area shows you care for the wellbeing of your workforce. It also helps grow staff relationships through informal conversation at the facility. Additionally, by adding a collection of fully managed vending machines or the Micro Market, everything your team might want is all there for them.
If a dedicated, quality breakout area is part your plans to enhance employee wellbeing and drive staff retention this year, contact Coinadrink to see how easy your vision can be brought to life.