Work and wellbeing: An office designed with wellness in mind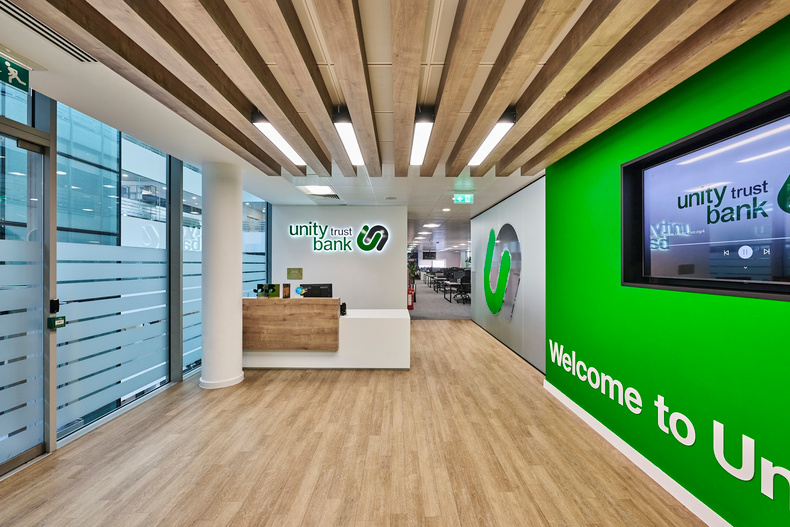 Written by Julia Tarpey, HR Director at Unity Trust Bank
According to the latest data from the Health and Safety Executive (HSE), the UK lost 17 million working days to work-related stress, depression or anxiety in 2021/22.
At Unity Trust Bank, we understand the inherent link between work, health and wellbeing. This year, we undertook a major refurbishment project at our Birmingham head office, with the aim of creating a flexible and inclusive workspace designed with employees in mind.
During Covid, millions of people had the chance to explore completely new working patterns and environments. To get a real understanding of how our employees want to work today, we carried out an in-depth staff survey and our research revealed a myriad of different working preferences - which are only fully coming to light as we return to the office post-pandemic.
From those who thrive in busy open-plan offices to others who crave a distraction-free space, we set out to create a working environment that met everyone's needs, with a focus on:
Creativity
In September last year, Unity launched a refreshed brand identity. For our office headquarters, we wanted to bring this bold and vibrant new brand to life and create a workspace that would inspire our employees and place our company mission and values front and centre.
Collaboration
As a growing organisation, with almost 200 employees and counting, we wanted to maximise every inch of office space for our expanding team. The design needed to work for every team of every size, whether it's a one-to-one catch up or a large group brainstorm.
Care
Most importantly, we wanted to ensure that time in the office was time well spent. From dedicated wellness facilities to a renewed focus on our company-led initiatives, every element of the office refurbishment needed to support and champion employee wellbeing.
Positive thinking
Our Birmingham head office is now a true extension of Unity's commitment to staff wellbeing. At our office launch event, we provided a 'wellbeing pack' to every member of staff, including: a pack of cards marking Unity's key wellbeing behaviours, a wellbeing journal and a sand-timer to show the importance of taking breaks.
Our new and improved office space now caters to however people want to work or feel that they work best. The office design is open plan with hot desks, but with the option to book meeting rooms or a bank of desks if you'd like to work within a specific space or team.
At Unity, we ensure that staff are working the hours that support their work/life balance and as well as encouraging everyone to take regular breaks and full lunch hours, we promote 'Free Fridays' where the goal is for people to keep their diaries free from any meetings.
All office furniture has been re-arranged to maximise views and natural light, and there's a new vibrant colour palette in line with the refreshed Unity brand. For those who need to concentrate and focus, there are dedicated quiet spaces and sound-protected work booths.
The office also includes a Wellness Room, offering comfy sofas with a relaxed colour palette and mood lighting. Unity currently has a team of six fully-trained mental health first aiders, and the new Wellness Room offers an ideal space for team members to speak confidentially, or just have some quiet time to think and reflect.
At Unity, our mission is to help create a better society. And our focus on creating positive impact extends to our unwavering commitment to employee wellbeing. We're proud to offer a work environment that is supportive, empowering and inspiring - just like our colleagues.
Pictured: Unity Trust Bank's Birmingham head office