Adopting smart thinking to unlock a smart Birmingham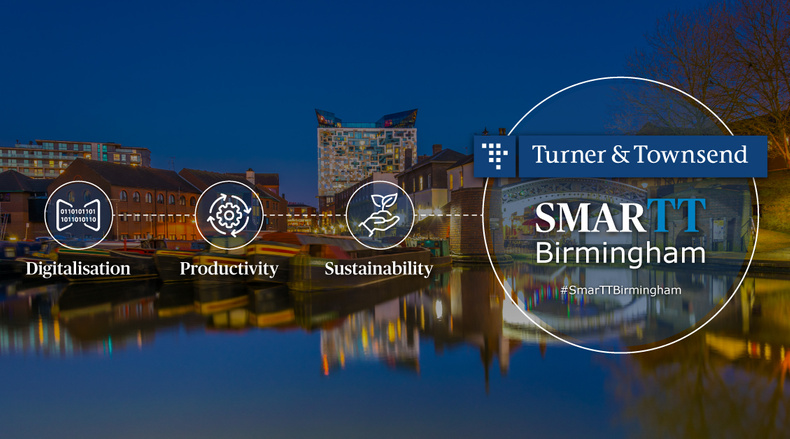 With the Commonwealth Games 2022 coming to Birmingham and record levels of investment in urban regeneration, we are witnessing the city's levelling up aspirations coming to fruition.
Through transformative projects like Smithfield and Paradise, together with the regeneration of Digbeth and Curzon Street, new opportunities and a fresh influx of investment in real estate and infrastructure are on the horizon.
For Birmingham to succeed in its placemaking ambitions, it should be a smart city at the frontier of information sharing and data-driven decision-making. Here's my take on some of the key steps to get there.
Smart ambitions need smart buildings
Asset owners are already investing in smart technologies, but technology alone does not equal a smart building - it's about the whole picture of how the asset is operated. So, what does success really look like? Let's go back to the definition of SMART to illustrate this.
Building owners and occupiers clearly need to monitor how they use essentials like lighting, ventilation, and security equipment. A smart building takes us to the position where usage data is gathered quickly and automatically, and stored in one central place.
If information is stored centrally, it should follow that it can be accessed via tailored dashboards that meet user needs, from facilities managers to senior executives - so that time can be spent on analysis and operational decision-making rather than painstaking data gathering. Building data can be modelled in near real time to trigger automated actions, such as temperature adjustments.
Reporting and Technology:
A smart building is monitored through accurate, real-time reports. Business information modelling (BIM) is recognised as a construction tool for new buildings, but should be utilised as a means to capture the full, up-to-date picture of existing assets via one accessible model.
Thinking smart and fast
The pandemic has demonstrated that businesses need to think on their feet and adapt to an ever-changing public health environment. We are in the age of flexible or hybrid working - and a flexible approach to working patterns demands a flexible approach to operating buildings and estates.
Smart buildings make it easy to adapt usage to occupancy, meaning the building operates appropriately for the present moment. Thinking longer term, owners and occupiers should consider how their smart technologies can unlock capabilities for future uses of their building, feeding in to a circular economy for the city.
Occupiers should embrace a 'global' mindset
Global occupiers are increasingly digitising their estates to provide global and regional oversight of their buildings. Through internet of things (IoT) integration, there is a transformative opportunity to operate entire estates as one single 'organism' with integrated dashboards and centralised analysis and reporting.
Clearly, digitisation is in closer reach for global clients that own large estates - but there are clear learnings to take from this approach. Turner & Townsend's methodology can help you understand the maturity of your digital building solutions in relation to your corporate goals, local opportunities and constraints, so that you can shape your smart strategy for the long term.
The challenge on the horizon for Birmingham's landlords and occupiers is to collaborate more closely on developing smart buildings and estates, particularly harnessing the opportunity to digitise while retrofitting buildings.
Sharing data unlocks opportunity for a connected city
This brings me to my next point: greater sharing of data between parties is essential to the emergence of Birmingham as a smart city. Collaboration between business and public authorities can transform the way we live our lives.
The opportunities are transformational - local funding decisions can be based upon the most accurate real-time data, and owners and developers will have a crystal clear picture of the cityscape as it progresses.
However, this inevitably brings a level of security risk, as data needs to be carefully managed and processed for the right reasons. To capitalise on such an opportunity, it is incumbent on business and local authorities to demonstrate that they can use data responsibly in the public interest.
Striving for the 15 minute city
Birmingham is ambitious about becoming an easily navigable '15 minute city', through enhancements to public transport, cycling and walking routes. Some developers and architects are even taking this further by tapping into the concept of the five minute neighbourhood
If we can get to a position where the city is effectively mapped digitally, with information sharing between Transport for the West Midlands, Birmingham City Council, large employers and leisure destinations, we'll have the confidence that investment decisions are based on the best evidence available and that the city truly meets the needs of locals and visitors.
We're taking the first steps on our journey to a smart Birmingham - but it's time to accelerate this journey and make levelling up a reality.