Blood charity launches an evening with four national sports broadcasters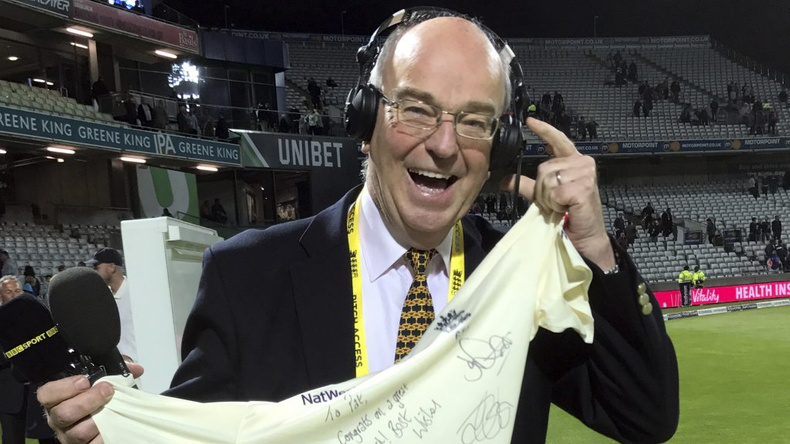 Four national sports broadcasters with over 150 years' experience between them have joined forces to share their highs and lows from their illustrious careers in aid of Cure Leukaemia.
Cure Leukaemia, which is also the chosen charity of newly elected GBCC president Nasir Awan, will host the event at Olton and West Warwickshire Cricket Club on 30 November.
The event will also support Marc Webb as he looks to complete the London Marathon in 2024 on behalf of the charity.
Mark Pougatch is one of the most recognisable TV sporting hosts, with audiences of many millions tuning into his coverage of the 2021 Euros and the 2022 World Cup, as Chief Sports Presenter for ITV. He also hosts ITV's coverage of rugby union's Six Nations.
Jonathan Overend joined the BBC Radio Sports Department in 1997 as Tennis Correspondent for 11 years, attending over 50 tournaments, covering all of Roger Federer's Grand Slam titles and developing a close relationship with Andy Murray – from a junior to Wimbledon champion.
He then presented Five Live's Sunday coverage of Premier League football for five years, reported from the 2002 and 2014 football World Cups, the 2004/2008 and 2021 Olympic Games, the 2016 Paralympic Games and the Ashes series in Australia in 2018.
Pat Murphy is the longest-serving contributor to Sports Report on Saturday afternoons, having clocked up more than forty years on the historic radio programme.
He has written over forty sports books, including acclaimed biographies of Ian Botham and Brian Clough, and his latest work is the Official History of Sports Report.
Cornelius Lysaght is one of the most respected figures in the world of horse racing. Cornelius was the BBC's racing correspondent for two decades, developing precious contacts such as AP McCoy and Frankie Dettori.
His sharp nose for a story took coverage of racing on Five Live to award-winning heights. His close relationship with all the leading trainers and jockeys ensures he remains a highly trusted journalist around the UK's racecourses.
Together, they have attended some of the world's most prestigious sporting events – from Ashes battles to Wimbledon, Olympics to Grand Nationals, football and rugby World Cups.
Pat Murphy said: "Our quartet has known each other for nearly 30 years, most of which has been spent working for BBC Radio 5 Live.
"Down the decades, we have enjoyed many splendid lunches, swapping anecdotes and recalling some hilarious escapades.
"So, we thought we'd share some of those stories. The USP is that all the tales are all true and happened to us alone. No recycling from other people's careers."
The quartet will be taking to the stage at Olton and West Warwickshire Cricket Club, 78 Grange Road, Solihull, B91 1DA on Thursday, 30 November 2023 from 6:00pm to 10:30pm.
Tickets are priced at just £20.00 per person which includes a raffle ticket. Click here to book.