Changes to restrictions on winding up petitions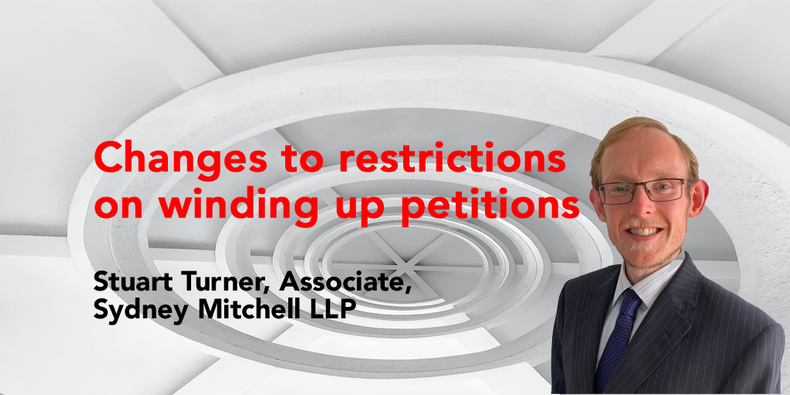 The Government has recently announced that, from 1 October 2021, the restrictions on the use of winding up petitions imposed by Schedule 10 to the Corporate Insolvency and Governance Act 2020 ("CIGA20") will cease. They will however be replaced by a slightly more lenient set of restrictions which are to remain in place from 1 October 2021 until 31 March 2022.
The restrictions contained in CIGA20 placed restrictions on a creditor's ability to use the statutory demand procedure against a corporate debtor. They also placed restrictions on the Court's ability to make a winding up order against a company unless the petitioning creditor had reasonable grounds for believing that coronavirus had not had a financial effect on the company, or where the creditor was able to evidence that the outstanding debt would have arisen even if coronavirus had not had a financial effect on the company. These restrictions placed a significant evidential burden on creditors.
The new, more lenient, set of restrictions which will come into force on 1 October 2021 provide that a petition may not be presented against a company in respect of a debt, or debts, with a value of less than £10,000. They also provide that, before presenting a petition to the Court, a creditor must have served a notice in writing on the company stating that unless a satisfactory repayment proposal is made within 21 days, the creditor intends to present a petition.
As matters stand, it remains the case that there is no requirement for a creditor to serve a formal statutory demand on a debtor company as a precursor to winding up proceedings. The insolvency threshold for companies has been £750 since the introduction of the Insolvency Act 1986, whereas the bankruptcy threshold was increased to £5,000 in 2015.
It will therefore be interesting to see whether, after the revised regulations cease to have effect at the end of March 2022, the Government will take steps to revise the corporate insolvency threshold upwards and to introduce a compulsory requirement for service of a statutory demand on companies, as is the case in personal insolvency.
If you have been affected by any of the issues above, you should obtain specialist legal advice at the earliest opportunity. Our lawyers have expertise spanning every area of company and insolvency law. Contact Stuart Turner s.turner@sydneymitchell.co.uk or Leanne Schneider-Rose l.schneider-rose@sydneymitchell.co.uk for specialist advice on 0121 698 2211.