Connecting systems to connect Birmingham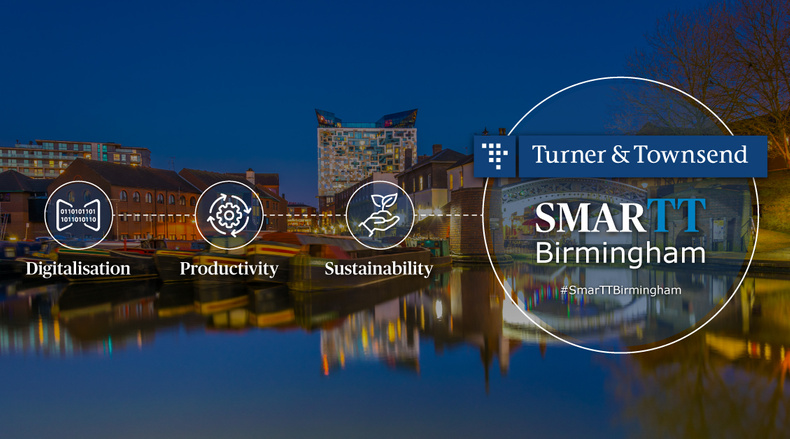 The last few years have witnessed a surge in investment and major programme activity for Birmingham and the West Midlands, with the Commonwealth Games coming to the city this summer and the ongoing work to connect the region to HS2.
As key programmes of work continue to emerge, sustainable and responsible investment must be embedded in strategic planning for our region. This is key to unlocking the prosperity which the levelling up agenda can provide.
Transformative programmes require intelligent approaches to their multiple system and contractual dependencies - creating secure, transparent and effective insights that bring the work of clients and contractors together efficiently.
Strong partnerships are essential to enabling digital innovation
Clients are constantly having to horizon-scan to remain at the forefront of the competition for major programme development. In many cases, this forward-looking approach means they are early adopters of technologies that can also benefit the public sector.
As the public and private sector alike bring forward more strategic programmes, there is greater scope for them to engage with all tiers of the supply chain as early as possible to unlock innovation.
Standardised and integrated software creates a harmonious programme
We can only realise digital innovation if clients and the supply chain proactively share data. For this to happen there needs to be a greater contractual incentive to share data, which would require a rethink of how we set up to deliver major programmes.
HS2 presents a clear example of the complexity here - a vast array of parties involved in delivering a major programme, each with data, systems, contracts, assets and often global supply chains, all needing to be coordinated, regulated, controlled and audited. Birmingham's programmes need a mix of smart systems, smart people, and clear guidance to deliver. This 'hyper-integration' means bringing together complementary resources within a well-defined and transparent objective framework.
The harmony between parties can be hampered by siloed systems and procedures, where greater inter-operability of systems and a standard approach to planning software would bring portfolios together.
Let software take the strain
Software solutions can take on the burden of tracking and data sharing, drastically reducing the manual effort required to manage major programmes of work.
Designing and setting up a 'digital by default' programme delivery system, that is both resilient and strong, is vital to managing this complexity. Equally important is ensuring that innovative technologies, solutions, and approaches are delivered to the front line of delivery as effectively as possible.
Organisations like the Infrastructure and Projects Authority could be well placed to support this by creating best practice standards that ensure systems, data and integration tools are of a consistently high quality, shared effectively, used efficiently, commercialised where possible and appropriate, and given the necessary securities to keep them safe. We welcome the focus IPA and other stakeholders have applied with the Project RouteMap and Programmes with Purpose guidance.
Resilience must be built in from the outset
With cyber-attacks an ever-present threat, cyber-security cannot be an afterthought for Birmingham's programmes - resilience to these threats needs to be built in from set-up.
Institutional investors now insist on seeing Cyber Essentials Plus as a core component of delivery, which includes a hands-on technical verification process to evidence that the programme is as secure and robust as can be expected.
With many parties involved in delivering major programmes of work, this assurance needs to carry across every partner involved - it only takes one weak link in the chain to put critical infrastructure at risk.
Harbouring digital skills is vital to successful delivery
The private sector needs a workforce that can not only deliver current major projects, but also be prepared for future demands. Attracting a new generation of diverse talent is essential for clients in the Midlands and beyond, to ensure they have the skills and behaviours for successful smart delivery.
Businesses and clients need to become more confident at sharing practices between sectors through forums like the CBI and the Infrastructure Client Group.
At a time when the sector faces an acute skills and talent crisis, we need to present a compelling offer for young people - one that moves away from the association of construction with 'low skilled' labour, and inspires new generations of data specialists, digital engineers, logistics experts and asset managers.
The infrastructure decisions taken now and in the next decade are critical to Birmingham and the West Midlands playing its role in levelling up and delivering the UK's net zero ambitions by 2050. Let's all play our part in unlocking the smart systems, tools and talent to make the difference.