Crucial role of internet connectivity in doctors surgeries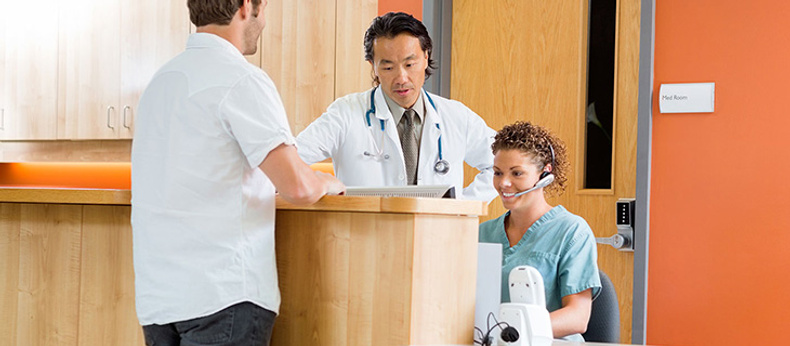 Especially at this time of year, having quality broadband and WiFi in place across all corners of your doctor's surgery is no longer just necessary, it is mission-critical.
We can work alongside your organisation to improve connectivity and ensure your staff and patients receive the best experience.
Particularly since the Covid-19 pandemic, many more activities throughout doctors surgeries are taking place virtually, creating an even greater need for quality connectivity.
We have seen increasing numbers of doctors surgeries utilising the power of digital platforms to enable patients to book appointments, to conduct virtual consultations and to even allow patients to place their repeat prescriptions.
This is a great step for doctors and enables them to relieve a lot of the pressure from their admin teams and cope with increasing numbers of patients.
However, in order to utilise these tools you need quality connectivity across all aspects of your organisation.
Supporting your staff in delivering the best service
It is no longer just your reception and waiting areas that require strong and stable broadband and Wi-Fi.
This also needs to be carried through into each and every one of your treatment rooms, to enable your staff to contact patients for virtual consultations and to access, update and upload large quantities of records to your system.
With your surgery dealing with increasing amounts of patient data, it is vital you are able to store this information in the cloud securely and easily.
This will allow your staff to access real-time patient information from any location across your surgery, removing the need for physical patient files and improving the accuracy and level of information available about a patient's wellbeing.
But of course, having quality broadband and Wi-Fi in place is crucial to facilitating this.
Supporting your telephone system
To provide patients with the best possible experience you need an effective and agile telephone system for doctors surgeries.
A VoIP telephone system is a great solution that can meet the unique needs and requirements of doctors surgeries, offering a variety of features that enables your team to operate more efficiently and deliver more effective care and a better service to patients.
You can find out more about the benefits of a VoIP telephone system here.
However, due to this type of telephone system being run over the internet instead of using traditional telephone landlines, in order to reap the benefits it has to offer, your surgery requires a quality connection.
Put simply, poor connection will only hinder your staff and affect the patients' experience.
How we can help?
If you have been experiencing issues with your current broadband and Wi-Fi setup, Telecom Central is on hand to provide the support you need.
We can visit you to conduct a site audit of your surgery and determine whether or not you have the right levels of access and speeds across all of your offices, treatment rooms and waiting rooms and reception area.
After reviewing your site, we can look at integrating solutions to boost your connectivity and help streamline your processes, which in turn will help to alleviate your staff workloads, whilst also improving patient care.
Get in touch to discuss our broadband and Wi-Fi service and discover how we can support your doctor's surgery.