Good design will make your event work harder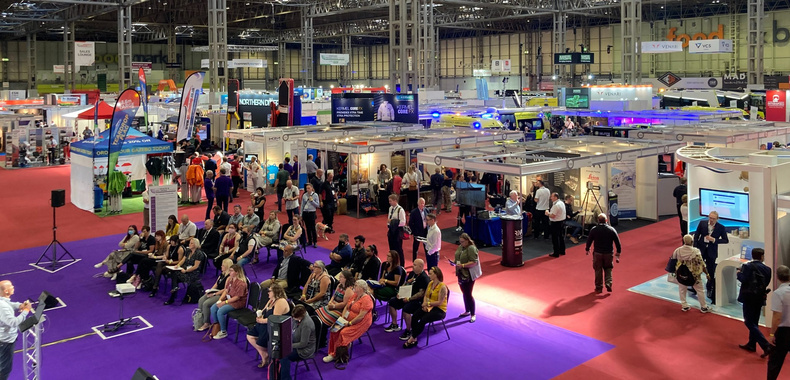 With trade shows still playing an essential role in many organisations' marketing calendars, what role does design play in making them work hard and deliver a return on investment for your brand?
Trade shows burn through resources like no other marketing tool. There is the initial investment in floor space, production costs, promotional items, and organisational time. Then, finally, there is the necessity of having staff members on the stand for days at a time. However, if your stand is designed well, you can walk away with a stack of hot leads and oven-ready deals.
Based on our 20 years of experience, here are our top five recommendations to follow to generate the very best return.
Consistency
First off is being consistent. As guardians of many clients' brands, there is nothing we like more than being consistent and adhering to guidelines, but exhibitions stands can present a challenge, as guidance for show graphics are often missing from brand guidelines. So you need designers who can interpret the guidelines (or add to them) to create the design.
It's not just the stand that needs to be considered. The consistency needs to run through everything produced in support of the event. Pre and post communications, website pages, presentations, email campaigns, direct mail pieces, invites, staff clothing and promotional items. All these elements work together to create a seamless experience.
To elevate your event further, you could create an overarching theme. This could use the overall show theme as an inspiration, or a specific message could be communicated to your audience; a product launch or a new campaign. This leads nicely to our next point.
Creativity
Events are physical spaces where your customer and prospects engage with your brand. They are pretty unique in that sense, unless you are a retailer. The physical embodiment of your brand allows you to bring to life your entire brand and its values. Adding a level of creativity increases the impact of your space by making your stand unforgettable and allows you to stand out from your competition, who are most likely to be either next to you or across the aisle.
It doesn't have to cost the earth either. While you need it to be more than a business card draw, as long as there is a connection back to your business or theme, then you can be clever with what you do. Great examples include; skill challenges, magicians, living mannequins, ice-cream vans, mixologists, dancing robots and freshly baked cookies.
Maximise your position
Sometimes you choose where your stand is located in the exhibition hall, while other times you have little influence on your position. For example, you could be at the end of the row or on a corner, close to an entrance or the coffee bar. All present different challenges and opportunities.
What you need to do is maximise your impact from the position where you are located. This could be through height, where tall graphics signpost visitors to your stand. Or it could be through the use of sound or music, literally stopping people in their tracks as they are about to walk past.
Video walls and screens are a great way of maximising the value of a stand's location, as they tend to draw people towards the stand. They can also communicate your message as people are sat eating their lunch or having a coffee.
All of these elements need to be considered at the design stage. Therefore, the more information you can give your designers about your stand's location will ultimately lead to a better design, delivering greater impact.
Practicalities
Firstly, budget. As a guide, exhibitors spend one-third of their budget on the space and the rest on everything else such as stand design, graphics, promo items, etc. Stretch the budget too far and the quality of the content on the stand will be a clear reflection of that.
Then you need to think about who is erecting your stand and how it will be transported. Will it be a custom build, an off-the-shelf shell-scheme or portable graphics? An often-forgotten consideration is including a secure area to store coats, bags, laptops and event goodies. It will use floor space, but it's such a useful part of the stand that needs to be added at the design stage. Finally, you need to take into account the post-event transport and storage of the stand.
A growing consideration for your exhibition presence is that of sustainability. From PVC-free print materials, to minimising the carbon footprint of your stand, all aspects of environmental awareness are now high on the list of requirements for many forward-thinking organisations.
These practical considerations need to be communicated to your designers, as decisions made early in the process can have implications and cause problems much further down the line.
Focus
Finally, focus. Remember, your stand is not a billboard or a brochure, so don't cram it with messaging and content. Instead, it should be seen as the backdrop for your staff to operate in front of, both physically and metaphorically. They will be the ones engaging with prospects and customers, highlighting your product or service's features and benefits. The space is there to support them and create an environment that reflects your business.
EBY has designed dozens of stands in the last 20 years - so if you are ready to make the most of your next exhibition or trade show and want some help, then drop us a note.