Hippodrome inspires local creative talent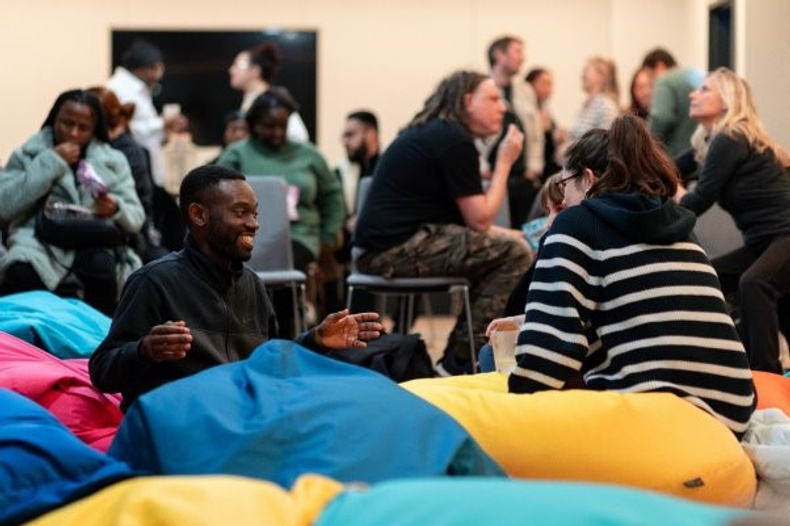 The curtain has risen at Birmingham Hippodrome on new projects to welcome local creative talent with the launch of the city theatre's New Work & Artist Development department.
Led by Sophia Griffin (Head of New Work & Artist Development) and Maria-Magdalena Mineva (New Work & Artist Development Coordinator), the department has been created to make the Hippodrome a vibrant and supportive home for West Midlands creative types.
There will be regular activity on weekly, monthly, bi-monthly, seasonal and annual cycles for creatives to participate in.
The evening also saw the return of Writer's Block, a scratch night hosted by Sophia Griffin and Grace Barrington, giving West Midlands artists space to test out ideas, share works-in-progress and collaborate with each other.
Two new opportunities for creatives were also launched in the shape of Playspace and Gathering: Seed Commission.
Under the Playspace initiative the Hippodrome will allow a different artist or team access to space at the theatre to explore an idea with no pressure to create a piece of work. The team can offer an outside eye if useful and there will be support with access costs and a small materials budget available.
Meanwhile the Gathering: Seed Commission project will see the Hippodrome partner with Talawa and the Belgrade Theatre Coventry to offer two co-commissions for artists of African or Caribbean heritage in the West Midlands.
The commission will support new ideas or early work in progress initiatives which resonate with the people of Birmingham, Coventry and the wider West Midlands and amplify voices from the population who are under-represented in the creative arts sector. The project will include a fee, support from the Hippodrome, Talawa and Belgrade teams, rehearsal space and opportunities to share works in progress.
On the new department launch Sophia said: "Welcoming so many West Midlands creatives was really special. The return of Writer's Block felt like the perfect way to launch the department and share our first two exciting new opportunities. There's more to come, including developments to our Hippodrome Creatives membership, new workshops and social events alongside many more opportunities for creatives in our region to develop new work.
"The programme has been designed so we can be more agile and responsive to the needs of West Midlands creatives, and we can't wait to get started. Keep an eye out for more announcements soon!"
The Hippodrome has also developed two new spaces to support the New Work & Artist Development programme, Studio 4 and the Artists' Lounge.
Studio 4 will offer artists space for workshops, research and development, rehearsals and events. The Artists' Lounge will offer a relaxed space for creatives to drop into work from, have meetings and to be at home within the Hippodrome, with access to kitchen facilities, a lounge area and library. The Artists' Lounge will be open from 10am – 5pm Monday – Friday and can be accessed by the Hippodrome's reception on Thorp Street.
Sophia Griffin added: "The New Work & Artist Development department is a key part of Birmingham Hippodrome's new five-year strategy, aiming to make the Hippodrome the most accessible venue of its scale and to contribute to increasing the production and distribution of new creative work in and from the city.
"Having spaces where artists can be in community with each other and with us is really important, whether that's to create work, have meetings or just have a cup of tea and read a play. We're here to support the brilliant artists in the region to play, experiment and ultimately support them to make new work for our stages and beyond."