How the adoption of digital accelerated collaboration technology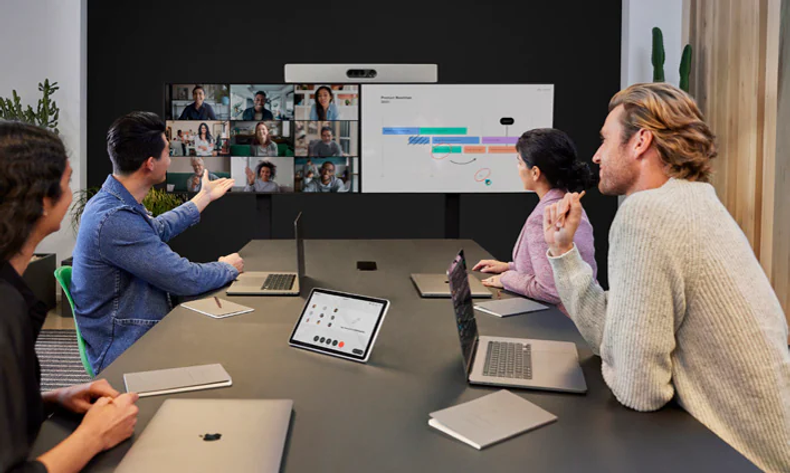 Previously, voice, video, data, and storage existed in disparate locations. Now, collaborative tools make it possible to sync PBX, cloud storage, chat and more in one platform. That has only escalated in the last two years.
Zoom grew 2,900 per cent in just three months, Microsoft Teams was adding 12 million daily active users in just one week at its peak in 2020 and Cisco's video conferencing business Webex reported 25 billion meeting minutes in April 2020, 10 billion more the total meeting minutes reported for March 2020, which again was double the amount reported for January 2020.
Forbes says that remote work is here to stay because:
Commercial real estate is expensive, and companies can save $22k per employee on average per year with remote working.
Remote work allows for access to a global talent pool to fill job vacancies.
Commutes stress out employees causing them to be less productive overall.
It's better for the environment.
It fosters more competition since a rural business in St. Albans can hire the same calibre employee
as one located in Silicon Valley.
So that means the digital adoption we've seen over the last 12-18 months is only going to accelerate as businesses commit to fully or hybrid remote working. Now, you'll need to replicate the collaboration spaces of the past in a fully digital environment. The businesses of 2022 and beyond need to have virtual communication tools that are just as effective as the water cooler and brainstorming tools just as reliable as post-it notes.
While teamwork has always been a critical aspect, successful collaboration in the workplace has become more effective, flexible, and dynamic than ever before. Instead of board rooms and post-it notes, professionals are turning to technology to connect with their teams.
Where email once reigned supreme, virtual collaboration in the workplace has seen the rise of intra-company communication tools. Video chat has become the main mode of communication for both work and play, providing a place for teams to gather and connect with one another.
This article is part of "How collaboration enables business success" Insight Guide. Read the full Insight Guide here.