How to improve the quality of your coffee at work with a touch of Magic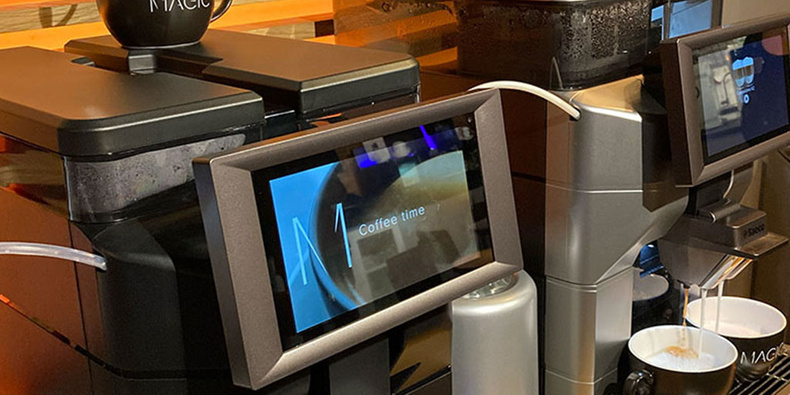 Coffee has been synonymous with the workplace for decades, but as the innovation develops, businesses with less available space and budget have been left behind.
The Magic fresh milk coffee machine conforms to the latest trend of modern coffee culture: making it more accessible to everyone. Unlike the majority of our fresh milk coffee machines such as the Kalea Plus and Vitro X1, the Magic is aimed at lower usage and smaller environments.
Now small offices, shops, hair salons and more can provide speciality coffee to their staff and customers.
Magic houses advanced innovation within its stylish and slender frame. It comes equipped with a milk frother built inside the machine, used in conjunction with either the milk fridge or milk cooler that is available separately.
This is patented with Saeco's unique cleaning technology that flushes through left-over milk residue after every dispense. Not only does this guarantee premium drink quality every time, but it also helps ensure maximum longevity.
And with a variable coffee chamber that allows the user to customise every option, Magic is a fresh milk machine that is serious about modern coffee culture.
Don't get thinking that this machine is too complicated, though. Magic is all about accessibility. The water, coffee and milk units are combined in the machine and delivers total convenience with hand-fill functionality.
Meanwhile, the 7" HD touch screen offers sharp graphics and an intuitive interface that's smart and simple to use.
The Magic is the latest addition to the Coinadrink range that really pushes modern coffee culture to the next level. Coffee shop quality is suddenly more attractive to everyone with this smart, slender, and cost-effective option.
It also comes hot on the heels of our latest Micro Market installation. These two types of refreshment solutions couldn't be more different, but both represent excellent employee perks for different types of requirements.
They also highlight the breadth of Coinadrink's capabilities at a time when employee wellbeing becomes more important.
If you want to improve your on-site refreshment facilities as a way to keep staff happy on site during the colder months, get in touch about Magic or our alternative options and services.