Implementing new technologies as instructional models into ESP classes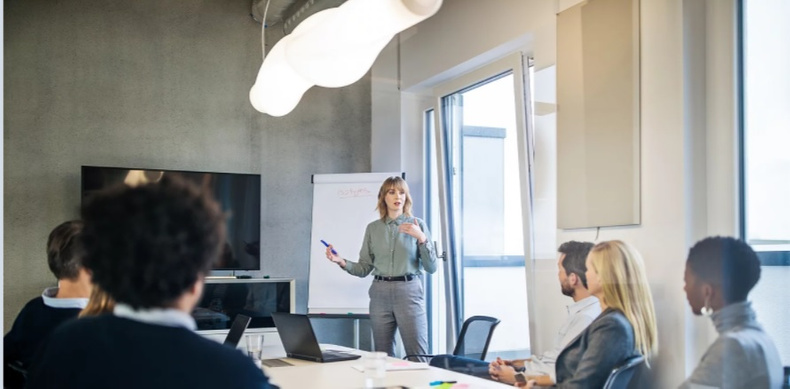 Introduction
English for Specific Purposes tutors are seeking ways to help their students to develop their academic work through technology inside and outside the classroom (Jordan, 2012). A very interesting study by the Open Colleges in Australia (Infographic, n/d) referring to the top three reasons teachers would use technology in the classroom showed that 76% of them use new tech instruments to adapt to diverse learning styles, 75% use new tech tools to boost student motivation and 76% believe that new tech devices enhance the material being taught. The key aims of this article are to demonstrate ways in which new technologies can be implemented into academic and study skills, and to provide a comprehensive overview of instructional models based on new technologies that would help learners to improve critical thinking, teamwork and independent learning skills, and understand material related to academic skills such as writing from reading, listening and speaking, as well as research skills and vocabulary development.
The role of new technologies in higher education
It is widely accepted that new technology provides students and teachers with encouragement that has to be taken into consideration. Technology is ubiquitous. Technological advancements have improved and saved lives, increased production, made worldwide travel available and fast, and broadened communication. Thomas Friedman (2005) points out that 'our world has become increasingly 'flatter', or 'connected', since the turn of the century' and ends up claiming that '... the classrooms of today should look nothing like the classrooms of the past.' There is a broad agreement that global awareness has become a necessity for our educational system and that our students are global citizens living in a global economy and need to understand those that they share the planet with. However, not only is global awareness important, but using technology to teach a variety of subjects in a variety of ways is equally important as well. It is undeniable that technology connects teachers and learners, teaching and learning strategies. 'Digital technologies offer many potential ways to foster global awareness in classrooms. Through infusion of both global education and technology in teaching and learning, teachers can foster students' understandings of the interrelationships of peoples worldwide, thereby preparing students to participate meaningfully as global citizens.' (Crawford and Kirby, 2008).It is generally believed that classrooms for ESP courses in the 21st century are undergoing a rapid transformation into new learning environments that are highly flexible, configurable and collaborative. Blackboards, cassette players and overhead projectors are going the way of the mimeograph as access to the internet for the development of ESP students' research/reference skills, use of interactive whiteboards and digital projectors for texts analysis, and implementation of lecture capture systems for recording class sessions (especially for the improvement of note-taking skills) are becoming the change that is driven by a generation of students who grew up in the digital age and who now expect interactive, learner-centered instruction (Clemmons, 2013).
New tech devices used in an ESP classroom
As is well known, ESP requires that all decisions regarding content and method be based on the learner's reason for learning (Hutchinson & Waters, 1987). Therefore, it might be interesting to note what kind of devices could support an active or interactive learning classroom environment during an ESP course. It is also important to stress how technology enhances the teaching and learning process and how it helps ESP students to improve and develop their academic and study skills. Some of the new tech devices that will be described here are: interactive whiteboards, document cameras, lecture capture systems, digital projectors, student response systems, and wireless and projection keyboards.
Interactive whiteboards (IWBs)
These amazing tools, along with PowerPoint and online video technology, appear to enrich ESP students' connectivity with the subject matter. They support many learning styles and encourage ESP students to interact with content. In this way, students are able to implement what they learn in their English classes in their main field of study, whether it be Money, Banking and Finance, Education, Economics, Computer Science or Engineering. Being able to use the vocabulary and structures that they learn in an interactive way through specialized resources reinforces what is taught and increases their motivation.
Like overhead projectors, document cameras project images for classroom viewing. They appear to be an important tool, especially for ESP students, who are encouraged to interact with content related to their main field of study. They can be used to display two-dimensional content, such as presentations in English; to model writing skills - editing and revising; for extended essay feedback; or for textbooks, reference books and various graphs or 3D content, zooming in on small items to show research findings as they are described in scientific articles analyzed in the classroom.Document cameras can be used to take pictures of content to be integrated into course material, posted to the LMS or used during a presentation. Many double as webcams, and some offer video recording capabilities, making them useful for lecture capture and videoconferencing applications, as well as content display.
Lecture capture systems (LCSs)
It is worth pointing out that ESP instructors can record class sessions â€&rdquol including audio, video and screen activity — using a digital or a web camera, a microphone and lecture capture software. Students can benefit from such systems as they will be able to revise the class session, to improve their note-taking skills and develop their understanding of various linguistic features of spoken English at home. Instructors who want to know what content is being watched, and how frequently, can use system data to identify specific areas where students may be struggling.
To create more flexibility in an ESP class, wireless projection capabilities should be considered. Some projectors have built-in functionality, and there are a number of devices that can be used to wirelessly connect to a notebook or tablet. Such projectors, along with interactive whiteboards and specialized interactive resources related to English for Engineering or Economics or Business Administration courses, can facilitate in-class learning related to the enhancement of technical communication skills when speaking, reading and writing English. A more highly effective way of digital projection might be 'holographic telepresence'. Three-dimensional moving images created through the use of holographic technology can be part of the instructional process and will probably make learning more entertaining. It is possible to imagine an ESP tutor demonstrating the anatomy of the human body in order to teach technical-specific terms or even an ESP student giving a presentation based on graphs related to the results of a survey by using a three-dimensional holographic projector equipped with android system. The possibilities for enhanced, interactive demonstrations via holographic projection are almost infinite.
Student response systems (SRSs)
A common need of all ESP instructors is to accelerate the teaching and learning process. Student response systems allow faculties to engage students in the classroom and assess comprehension of class material 'on the fly'. Student response systems work best in large classrooms where it is difficult to interact with all students directly. They are ideal for academic reading skills and vocabulary development with content containing multiple-choice and true/false/not given questions. Their use is not complicated at all. For example, during pre-, while- and post-reading activities, with a student response system, ESP teachers can easily ask questions and collect responses of all students in real time. Also, students are able to participate in class anonymously among their peers, but can also be uniquely identified to monitor progress, perform assessments and track participation. During class, instructors can quickly and accurately analyze a student's performance and differentiate instruction to meet the needs of all students that might be associated with the field of study.
Wireless and projection keyboards
Another way that students can interact with what they are seeing during an ESP class, is with a wireless or a projection keyboard that can be passed around the classroom. A projection keyboard is a form of computer input device whereby the image of a virtual keyboard is projected onto a surface: when a user touches the surface covered by an image of a key, the device records the corresponding keystroke. A wireless or a projection keyboard may be useful when ESP tutors want their students to interact with content on the interactive whiteboard without the disruption of moving them around the classroom. In an ESP class, such keyboards enhance teamwork as students are able to type their opinions and then compare their answers with those of the students of other teams in the classroom.
Expanding classroom walls
It is undeniable that the use of all the afore-mentioned devices in ESP classes encourages class participation, accelerates the teaching and learning process and helps students to improve their academic skills in the classroom. However, ESP students' needs cannot be limited to academic skills development. Independent learning, critical thinking and teamwork skills can be developed and improved through new tech tools.
It should be emphasised, that as notions, critical thinking and motivation are closely related (Guilloteaux and Dörnyei, 2008). In many ways, they go hand in hand. Critical thinking requires time and effort. To think critically, ESP students consider complex terms about specific subjects related to their main field of study, formulate theories, develop ways to prove or disprove their theories, and create new ideas. Technology can bring much potential to the advancement of critical thinking.
It is widely accepted that most ESP students like visual learning as opposed to auditory learning. They like to develop their vocabulary through pictures, to improve their speaking skills by describing diagrams and flow charts, and discuss topics demonstrated in films (Bain, 2005). This does not mean that such students must see everything they learn, or that they cannot learn abstract concepts. It means that ESP tutors probably cannot reach some students educationally unless they at least begin with visuals as warm-up activities.
Independent learning, teamwork
E-portfolios and telepresence systems, along with video, digital and web conferencing, expand classroom walls and encourage independent learning and teamwork. E-portfolios are hosted by most university language centres worldwide, enabling ESP/EAP students to present themselves and their work in an online forum. Given how much time students spend online, and recognizing how the lines have blurred between what is public and what is personal, institutions are seeking ways to help students understand, build and manage their overall online presence. Some e-portfolios can be used for presentations, a number of different assignments and, most popularly, class studies. Helping students to learn to navigate their options and develop a professional online presence, no matter which tool is used, should be the goal. Some university language centres now offer their ESP students their own blogs, websites, web hosting or personal domain names to support this online presence. Another way of interacting could bring more fun. A face-to-face interaction in a virtual environment is an interesting way of study work. Web- and video-conferencing and telepresence systems provide the means for face-to-face interactions in both physical and virtual environments. Online ESP classes can be augmented with virtual office hours, in which ESP tutors meet face-to-face with students via Skype or other web-conferencing technologies for home tutorial sessions. Online students can form study groups or work on group projects in real time using web- and video-conferencing and collaboration tools (Clemmons, 2013).
Impact of new tech devices on ESP students' academic and study skills
All the above-mentioned points indicate how exactly new tech instruments affect ESP students' academic and study skills development. Table 1 shows that IWBs, document cameras, digital projectors, student response systems, wireless and projection keyboards, and e-portfolios are effective tools for enhancing motivation (Dörnyei, 2001) and improving academic skills, communication and collaboration in an ESP class. Lecture capture systems are beneficial for improving speaking for academic purposes and note-taking techniques.
Table 2 illustrates how new technologies enhance ESP students' study skills development. E-portfolios, telepresence systems, lecture capture systems and web-conferencing with peers or teachers can extend learning opportunities, link isolated groups of learners and provide a choice of options for engaging with the curriculum. Another benefit of these devices is the ability for ESP tutors to be available online for home tutorial sessions, questions or discussion with students. They can make learning more flexible and personal; students and teachers can discuss issues via the conference from home and are able to juggle other demands.
Use of new technologies in an ESP class from a more practical perspective
The implementation of a wide range of new tech instructional models into an academic reading lesson plan might be an indicative method of the impact of new technologies on the teaching and learning process. The purpose of the in-class pre-reading activities is to let students know at least something about the topic before reading. Therefore, before students read a text, tutors implement warm-up activities and try taking 7-10 minutes to build word and background knowledge. This increases students' comprehension of the text. It has already been shown that motivated students are better able to understand material. In addition to document cameras and lecture capture systems, IWBs increase motivation and maintain students' interest.While reading, IWBs and document cameras project a whole text related to the students' field of study so ESP teachers may easily show students how predicting, skimming, scanning and intensive reading techniques are useful activities for context comprehension. Lecture capture systems can record students' teamwork performance in the classroom so that they could improve their teamwork and speaking for academic purposes skills.It is well known that post-reading activities help ESP students to locate and record relevant information they might use in their main field of study, support them to make connections with what they know and the texts, provide a framework for summarizing key ideas within a text, support students to make inferences and generalizations and help them to substantiate or reconsider their own ideas. In short, that is what IWBs, lecture capture systems, student response systems and wireless or projection keyboards do.Last but not least, e-portfolios and web-conferencing can support students by helping them to improve independent learning and teamwork skills outside of the classroom.
Conclusion
Research has repeatedly demonstrated that students learn better when they are fully engaged and that hands-on learning enhanced by new technologies is the best way to engage them. The teaching and learning process can be based on the effective use of new tech devices that are ready to form the next-gen classroom. Everyone can benefit from them; ESP instructors can use them to accelerate the teaching process and students can be motivated in order to improve their academic and study skills. New technologies will expand classroom walls and study work will be more entertaining, thanks to their implementation as instructional models into ESP classes.
References
Bain, K. (2005). Critical Thinking and Technology. Retrieved from http://www.bestteachersinstitute.org/id98.html
Clemmons, R. (2013). Technology, Instruction and the 21st Century Classroom. EdTech Magazine. Retrieved from http://www.edtechmagazine.com/higher/article/2013/05/technology-instruction-and-21st-century-classroom
Crawford, E. and Kirby, M. (2008). Fostering Students' Global Awareness: technology applications in social studies teaching and learning. Journal of Curriculum and Instruction, 2(1), 56-73.
Dörnyei, Z. (2001). Teaching and Researching Motivation. England: Pearson Education Limited.
Friedman, T. L. (2005). The world is flat: A brief history of the twenty-first century. New York: Farrar, Straus and Giroux.
Guilloteaux, J. and Dörnyei, Z. (2008). Motivating Language Learners: A Classroom-Oriented Investigation of the Effects of Motivational Strategies on Student Motivation. TESOL Quarterly, 42(1), 55-77.
Hutchinson, T. and Waters, A. (1987). English for Specific Purposes, a Learning-Centered Approach. Cambridge: Cambridge University Press.Infographic. (n.d.). Components of the 21st Century Classroom. Retrieved from http://www.opencolleges.edu.au/infographic/21st_century_classroom.html
Jordan, R. R. (2012). English for academic purposes: a guide and resource book for teachers. Cambridge, UK: Cambridge University Press