Long-term benefits of leadership development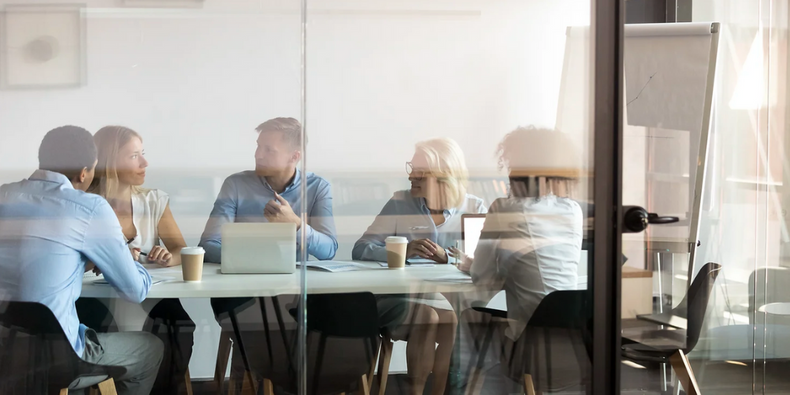 Leadership development isn't just about improving your skills and abilities in the present; it's an investment in your future. Although it's normal to think about the impact investing in development opportunities has on yourself and your career in the short term, there are a wide range of long-term benefits of leadership development to be taken advantage of.
Like many other leaders, you may want to utilise leadership development to improve your skills, enhance your current capabilities, and increase effectiveness throughout the wider organisation.
But did you know that developing your leadership skills can also open doors to future opportunities, enhance your career prospects, and allow you to make a lasting impact on those around you?
With organisations based in America spending $166 billion each year on leadership development and an increasing number of businesses investing to grow the succession pipeline, retain employees, foster innovation, encourage collaboration, and create a coaching culture, the benefits are seen across the globe.  
Whether you're considering leadership development for yourself or your people, we explore the long-term benefits of leadership development here.
What are the long-term benefits of leadership development?
Leadership development is an investment that can span a lifetime. As leaders, we continuously learn and evaluate how we work and develop our skills for ourselves and our people. For this reason, it's not a quick win. Like many things, it takes time, but the rewards are worth it. 
In the long run, leaders frequently find that leadership development enables them to improve their communication skills, develop problem-solving abilities, and enhance talent retention. 
Improved communication skills
Take a moment to reflect on your role as a leader. Every day, your role will see you communicate with peers, employees, teams, and stakeholders. But just like we're all different, the way we communicate is too. Everyone has preferences when it comes to communication, which is why leaders frequently find that their skills can positively or negatively impact productivity, morale, teamwork, and trust.
When progressing through a leadership development programme, we reflect on our current style of communication – the way we listen and respond – and review any areas for improvement. In doing so, we can learn how to adapt to suit the needs of all individuals, including those who are neurodiverse. We can also learn the power of intentional communication and how to have difficult conversations.
Better conflict resolution skills
It's not uncommon to encounter conflict in an organisation, but the key is how it's navigated. Conflict resolution can prove challenging for leaders new to their roles or positions - especially when it comes to conflict resolution in a hybrid workplace.
With the impact of conflict in the workplace, including poor communication, self-sabotaging, a lack of collaboration, poor working relationships, and reduced trust, leadership development is key. 
When it comes to the long-term benefits of leadership development surrounding conflict resolution, leaders walk away with knowledge, techniques, and tools to effectively manage them within a team and organisation. Not only can these be used in the short-term to mitigate immediate conflict, but they prove long-lasting and remain tools that a leader can use throughout their career.
Succession planning
Another long-term benefit of leadership development is that programmes focus on identifying and cultivating future leaders within the organisation. Investing in programmes, such as talent and graduate programmes, ensures that a steady pipeline of leaders can seamlessly step into other roles and positions. This is proven to prevent any leadership gaps.
Leadership development additionally supports succession planning as leaders who progress through programmes often find that their vision, purpose, and goals become much clearer. With the support of leadership coaches, we can gain a much more comprehensive understanding of our strengths, weaknesses, and areas for improvement. Understanding this, we can learn how to adapt to ensure our leadership positively impacts long-term organisational development.
Organisational growth and positive company culture
Whether you've been in your current leadership role for one year or ten years, one thing that remains consistent in our careers is that our people look to us for motivation, inspiration, clarity, and much more. 
When we demonstrate that our development is a priority by completing training programmes or coaching, we can begin to foster a positive company culture that encourages growth and success for the entire organisation.  
Better leadership skills
As leaders, we all have room for growth. As time passes, the needs of our people and organisations do, too. To lead through times of challenge, for example, our leadership skills must constantly evolve – we've witnessed in the last few years just how important this is. Leaders who don't enhance their leadership skills risk losing their top talent, amongst many other things. 
Fortunately, leadership development programmes equip managers and leaders with a better understanding of effective leadership techniques and strategies. This enables them to lead their teams more efficiently, creating a positive and motivating work environment. 
Improved talent retention and development
Finally, another of the long-term benefits of leadership development is improved talent retention. 
With recent research highlighting that 63% of millennials don't feel as though they are being given the training and resources needed to develop their leadership capabilities, many are looking elsewhere for these opportunities. Of course, this has a knock-on effect on retention. Yet when organisations provide leadership development, retention has been known to increase. 
As well as being due to offering development opportunities, talent retention increases when others within the organisation, such as managers and leaders, undergo leadership development. This results from improved leadership skills, communication skills, and relationship building.
When Is Leadership Development Important?
Whilst many leaders believe they can only take advantage of leadership development opportunities when they face challenges or receive feedback from peers that suggest room for improvement, leadership development is important at all stages in your career. 
For new talent, such as graduates and those in entry-level roles, leadership development equips them with the skills and tools to lead teams and manage change. Meanwhile, for seasoned leaders, development offers the opportunity to enhance their capabilities and meet an organisation's needs, goals, values, and culture.
In addition to catering to the personal needs of individuals at different levels in the organisation, leadership development is also important during organisational change. As a company evolves, it's important that leaders do too, and the long-term benefits of leadership development offer this. 
Contact Us Today
Leadership development is an ongoing process that includes developing skills like strategic thinking, decision-making, communication, delegating, coaching, and motivating others.
At The Leadership Coaches, we design and deliver leadership development programmes to suit all needs. We cater these programmes entirely to your organisation's needs by using data, such as feedback from staff surveys, identifying gaps, such as those in knowledge and skills, and reviewing your time and budget.
Though our programmes are bespoke, you can expect up to six modules interspersed with one-to-one coaching delivered over a timeframe that suits your needs best. We regularly review feedback to ensure that the programme benefits the organisation, and we're honest about any adaptations that may be required to ensure you get the most out of your time.
To find out more about our programmes, contact us today. Likewise, if you'd like to learn more about the long-term benefits of leadership development, we're on hand to answer any questions you might have.