Open your mind to a workplace vending machine in 2023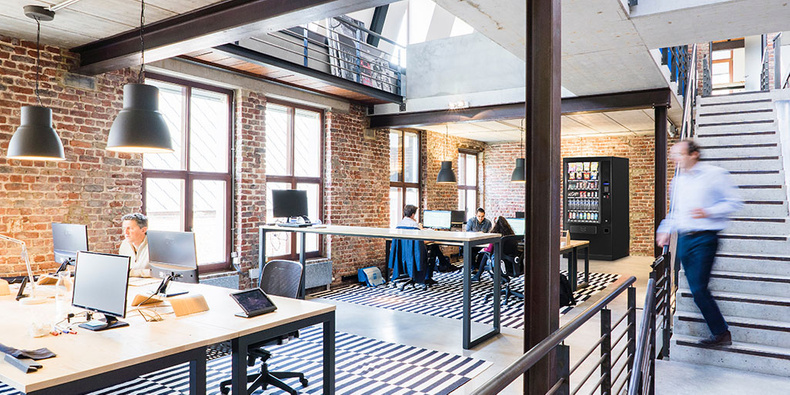 Vending machines have been a part of our lives for a long time. As technology continues to develop new possibilities, they are becoming more and more common in the workplace.
They offer a convenient way to get a quick snack or drink without leaving the premises, but the flexibility of a vending machine means it can offer so much more than just refreshments.
And that's exciting news for manufacturing sites, offices, schools, hospitals and so many more environments.
Hot drink vending machines
Some of the biggest developments in workplace vending machines have been through hot drinks.
Hot drink vending machines dispense fresh bean coffee, fresh leaf tea, hot chocolate and so much more. As hot drinks have been a staple of the working day for generations, they are a very popular facility in offices, warehouses and more.
Snack vending machines
One of the most common things found in workplace vending machines is snacks and confectionary.
From crisps to chocolate bars, vending machines offer a wide variety of snacks to satisfy any craving. They are a great option for busy employees who may not have time to leave the office. Snack vending machines can even offer healthier items such as low-sugar and vegan-friendly products.
Cold drink vending machines
Another popular option found in workplace vending machines is cold drinks. From water and fruit juices to fizzy drinks and energy drinks, cold drink vending machines offer a wide variety of beverages to quench your thirst from the convenience of the workplace.
Fresh food vending machines
A fresh food vending machine is a common sight in workplaces because they save employees a lot of time having to source food off the premises at lunch.
Just like with other vending machines, fresh food vending machines have been graced with a host of innovation to provide a quality refreshment solution. This is a cost-effective alternative to catering or cooking facilities.
Healthy vending machines
As touched on above, the flexibility of a workplace vending machine means it can cater to trends and demands from employees.
Vending machines can offer a huge range of healthier products, whether you're looking for low-sugar and low-calorie snacks and cold drinks, or low-fat sandwiches and meals.
Employees spend so much of their time in the workplace that a vending machine with healthier products is very well appreciated.
PPE vending machines
PPE vending machines have grown in demand since the Covid-19 pandemic, providing a safe and reliable solution to provide vital equipment to staff in the workplace.
Items typically include high-visibility jackets, goggles, and gloves, though the flexibility of a vending machine means it can dispense so much more.
With powerful analytics that keep track of where items are going, this is a great solution in warehouses and more. Business leaders can meet their health and safety demands from this unmanned and reliable facility.
Office supplies
In addition to snacks and beverages, some vending machines even offer office supplies. This can include things like pens, paper clips, and post-it notes. This is a great option for employees who may have run out of supplies or who may need something quickly.
Tech gadgets
Some vending machines even offer tech gadgets like headphones and phone chargers. This is a great option for employees who may have forgotten their headphones or who may need to charge their phone during the workday.
Books
Book vending machines are very popular with schools and other education environments.
A book vending machine is a great way for both students and teachers to buy new books for either learning or teaching. They can be replenished regularly to offer fresh choice.
Maintenance and replenishment
Vending machines in the workplace can often be replenished and maintained by ourselves. This ensures that the machine is always stocked with the products you want, with service calls also taken care of.
This is a great option for companies who want to provide a hassle-free vending machine experience for their employees.
Please be aware, however, that Coinadrink Limited only offers this operated service on vending machines that provide refreshments. PPE vending machines are strictly self-fill, whilst more unique solutions are usually also maintained by the customer.
Your vending machine, your choice
Workplace vending machines can provide a wide variety of products and services to employees.
From hot drinks and snacks to office supplies and PPE, vending machines are a convenient and efficient way to get what you need during the workday. With customization options and convenient payment options, a vending machine can represent a fantastic facility for your employees.
Contact Coinadrink to see how a vending machine can meet the needs of you and your team in the workplace.