Recruiters share top five tips to award-winning employee engagement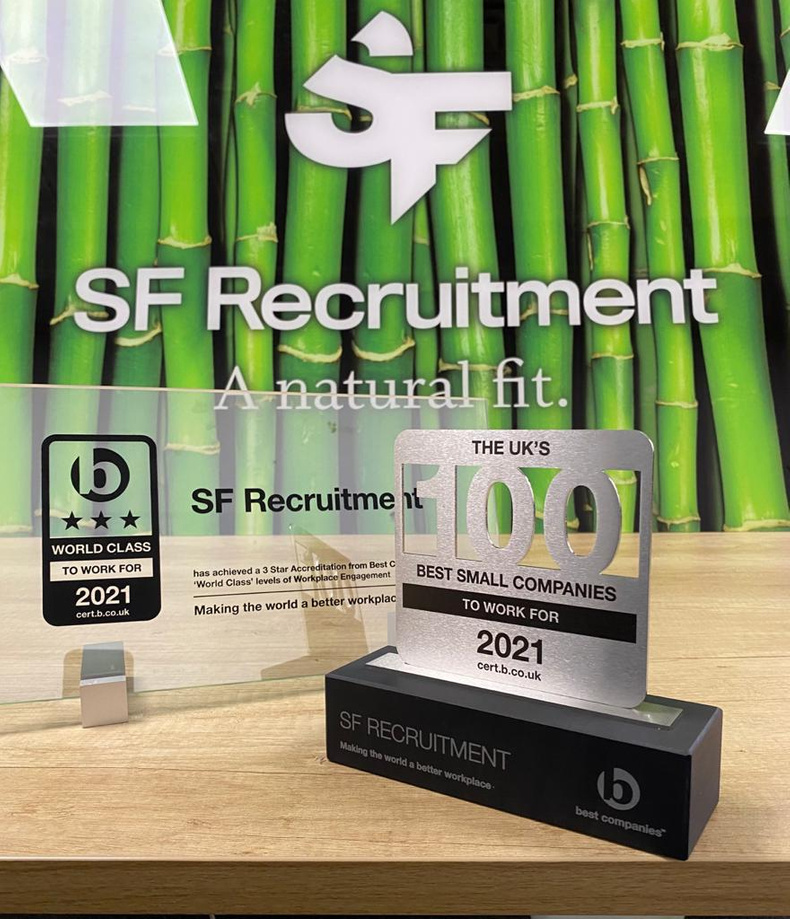 Best Companies has named SF Recruitment the 18th best small company to work for in the UK, marking a second consecutive top 20 finish. The agency also placed as the number one Midlands-based recruiter to work for. Here are five ways employee engagement has played a vital role in SF Recruitment's development as a business leader.
As any business leader worth their salt will tell you, an organisation's employees are its most valuable asset. More often than not, a businesses' success hinges entirely on the work rate of its staff, as the combined outputs of individual employees determines that of the company as a whole. Consequently, the most effective way of ensuring high performance is through employee engagement. Best Companies determine the recipients of its awards through a number of categories, including: leadership, company policies, personal growth, wellbeing and corporate social responsibility - all key areas of focus for business leaders.
With this in mind, it is clear that it is in the best interest of businesses to invest in their employees and these areas if they want to achieve growth as a company. Like any asset, employees are able to achieve their best performance when they are engaged and well taken care of. Often, this is something that organisations are able to do relatively inexpensively. Over the years, SF Recruitment has introduced a number of simple initiatives which ensure staff remain engaged, but are also supported where needed.
Catering to Employees' Physical Health
When working in an office job, it's very common that the physical side of an employees' wellbeing suffers as a result. This can also have a knock-on effect for workers' mental health, with a sedimentary lifestyle adversely affecting motivation and concentration. For this reason, it's especially important that businesses take precautions to ensure that their staff's physical health does not deteriorate due to work. SF Recruitment recently offered free branded gym wear to all of its employees to encourage them to get active.
Throughout lockdown, step competitions run via Countit.com offered a great way to get the whole office moving. Everyone contributed to collective office scores, while more active employees were averaging over 20,000 steps a day. The winning office was able to maintain over 10,000 steps each, but those who had less active lifestyles still saw significant increases in activity. Other initiatives, such as subsidised gym memberships, have also been an effective way of encouraging exercise.
Supporting Staff Mental Health
As crucial as it is to make sure employees' physical health is nurtured, it is equally important to ensure that their mental needs are looked after, too. Truly flexible working schedules are an easy way of allowing staff to minimise stress levels and manage their lives without inducing anxiety. Free access to platforms like Headspace offer a medium for staff to unwind via guided meditation and relaxation sessions to promote good sleep and mindfulness. SF Recruitment has also run a number of successful group sessions in all of its offices, while it also offers anonymous counselling and financial advice.
Engagement Games
A key aspect of keeping work engaging is to let loose and have fun once in a while. Company challenges can often be established at no cost to the organisation, and offer an opportunity for staff to bond with each other while encouraging an aspect of healthy competition. SF Recruitment regularly hosts challenges, such as the aforementioned step competition, which are incentivised with prizes.
The team also launched a selfie game, where employees were tasked with taking pictures with randomly selected items, with a league format and a prize draw for those who competed. This summer, SF Recruitment will continue its trend of engaging challenges with a game centred around the upcoming European Championships.
Optimising Work Environment
With many employees planning to return to the office full-time this year, it is vital that office settings are suitably equipped for their return. Creating a safe, productive workspace is the best way that companies can ease their workforce back into office life. SF Recruitment has ensured that its offices are revitalised by relocating to modern facilities that are more in line with the demands of flexible and hybrid working. The integration of touchdown tables, standing desks, phone booths and a pool table enables employees to feel more relaxed and comfortable at work, in turn fostering productivity.
Making Their Life Easier
The most effective way to ensure stress levels remain low is to simply make your employees' lives easier wherever possible. SF Recruitment has ensured all employees have the right technology to suit flexible working, including brand new iPhones and tablet PCs for remote working. Additionally, it has upgraded its website and CRM system with integrated forms to record details, ID and achievements from prospective candidates. This allows it to automatically upload information to the system, significantly reducing the administrative burden on consultants.
Investing in new technology is one way to enable staff to perform their roles more effectively, though there are a multitude of other changes that businesses can do so without warranting expense. SF Recruitment plans to continue taking innovative approaches to balancing work and home life, which in turn will allow it to enhance its services. By allowing flexibility in the workplace, your workforce will be happier and more productive, leading to greater growth for the company.
One of the cornerstones to SF Recruitment's success is its employees, and by adopting a humanistic, people-first approach it has been able to achieve recognition from Best Companies once again. Initiatives don't need to be expensive, but it is important that all employees are valued and supported. Investing in your team will ensure they remain engaged, which can only boost business performance.