Remote working and the new digital workplace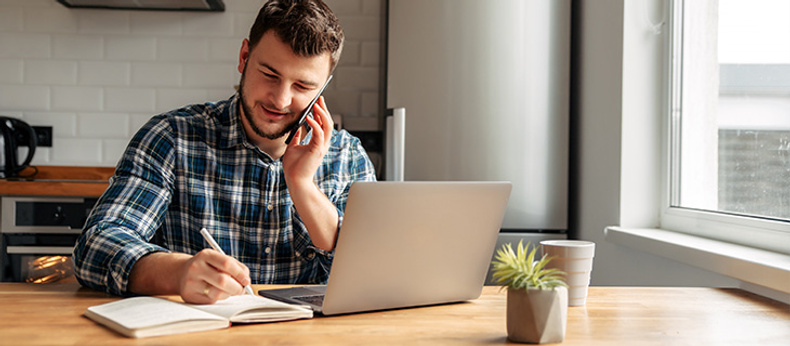 There is no doubt that the Covid-19 pandemic forced all organisations to adapt quickly to change and integrate a digital workplace approach to enable them to both operate safely and continue supporting their clients.
With the vaccine rolled out and news reporting that we may well be coming to an end of the pandemic for good we know that many businesses are in fact looking at how they can shift to working from home more permanently due to the benefits they have discovered.
Despite the differing opinions around this type of working, there is still a level of uncertainty around when a return to normality will take place and also what the future of the workplace will look like.
So no matter your standpoint, it is important you are prepared for every eventuality; your technology and systems will play a huge role in enabling you to cope with whatever the future will bring.
To help prepare you for the year ahead, we have highlighted some key things to consider.
Will your systems be able to continue supporting you?
We believe that many of the tools and practices that organisations have adopted in the last year to support their remote working will become permanent.
Therefore, it is vital that the systems and technology you have in place are agile and flexible enough to adapt with you and your changing needs as we enter 2023.
Take the time to review how effective your systems were in supporting you throughout the pandemic and consider what your biggest struggles were.
Doing this will help to highlight areas where your systems may have failed to meet your needs and you can then look at putting solutions in place to prevent these issues from reoccurring.
We know the importance of having the right technology in place to enable you to operate in the most efficient way, whether that is working from home, in the office or splitting your staff between the two.
How will you continue to collaborate effectively?
For many individuals who feel negatively towards the digital workplace approach, this opinion has been formed mainly due to a concern that it doesn't provide opportunity for collaboration and workplace culture.
However with the correct tools at your disposal, maintaining quality communication and opportunities for collaboration across your staff is easy.
We can work with you to integrate a communication system that offers a whole host of tools that support collaboration with colleagues, suppliers and even your clients.
These tools are vital whether your staff is working remotely or splitting their time between the office and home. Enabling your staff to continue the collaboration and sharing of ideas no matter where they are working from.
How will you maintain quality communication with clients?
Video meetings and conferencing has become much more mainstream in the past year and for good reason; it has enabled businesses to continue communicating with staff, clients, prospects and suppliers in a safe yet effective way.
One thing in particular that it has highlighted for many is just how much time we can end up wasting travelling to and from meetings.
For this reason we believe that even as things return to normal, video conferencing and online meetings will continue to remain popular and for some, even their preferred way to do business.
Whether your chosen option is Microsoft Teams, Zoom or another platform, having the right connectivity in place is essential in continuing to make this a beneficial and effective way of operating for you.
We can support you to ensure quality connectivity across your business, working to improve connectivity within your offices and your employees' own homes, ensuring they are always connected.
Considering all of the factors above will help to ensure you are prepared for the year ahead and highlight what you need to look at changing to ensure you are effectively supported moving forward.
Are your systems agile and durable?
It is important to consider the longevity of your systems.
Will they be able to grow and adapt with you as your needs change in the future?
It has never been a more important time for businesses to be getting the most out their budget, time and resources. With this in mind, you should be investing in systems that will allow your teams to work effectively from anywhere and at any time.
We offer a variety of solutions that can support this, including a VoIP, or cloud based telephone systems.
Cloud phone systems run across your internet connection, without the need to house a network and routing element on your site. Calls are made and received in a similar manner to a traditional system, therefore phone users and those contacting your business will not have to do anything differently.
It can be accessed via soft-phone applications on a mobile phone and all of your contacts, numbers and features stay the same.
This means that staff can use the system wherever they are working from in exactly the same way as if they are using it via their desktop or handset in the office.
Investing in this type of system is a great way to support you during the current climate, where your employees are spending the majority of their time working from home, and into the future when you bring more staff back into the workplace or arrange for them to split their time between the two.
Do your systems help to boost productivity?
One key issue customers have been coming to us with over recent months is around their connectivity.
Your staff need to have access to a quality and reliable internet connection both in the office and at home, so they can work effectively at all times.
We provide a variety of connectivity solutions for the office and tailored packages that can be integrated in your employees' homes to ensure they are always connected.
All our systems are simple to use, minimising the risk of issues and allowing your teams to focus their attention and efforts on their work, rather than trying to fix or work around the issues.
Another factor that can impact productivity is your staff's ability to collaborate. When working from separate workspaces, maintaining quality communication and collaboration can be difficult.
Having an agile and flexible system in place that offers features that support collaboration is vital to enable your staff to still work closely together as if they were all still in the same office, allowing them to share ideas, communicate and get tasks done.
One final consideration around productivity is how your existing system supports call handling.
Could there be a more efficient way of receiving calls into the business and moving them to the right individuals?
We can work with you to integrate a system that facilitates this, helping to achieve effective call handling that maintains quality communication and a cohesive customer experience at all times, whether your teams are working from the office or home.
Do you have the most cost-effective solution?
You also need to consider how cost effective your systems are and how they are currently supporting you in achieving a return on investment.
Our solutions are completely tailored to your needs and offer scalability, meaning they can evolve with your changing needs, making them a smart investment.
Investing in an agile and innovative system that covers all bases and can grow with you for the foreseeable future is much more cost effective than paying for multiple solutions.
Partnering with just one trusted provider who can meet all of your communication needs will also ensure you receive just one cost that covers multiple systems/needs.
Finally, the level of maintenance and support that we offer alongside our systems can also help you to save money and prevent additional costs.
Through regular maintenance we can help you to identify issues early on and resolve them before they become costly, whilst also reducing the risk of downtime which again can be extremely costly to a business.