Serving businesses within Birmingham Clean Air Zone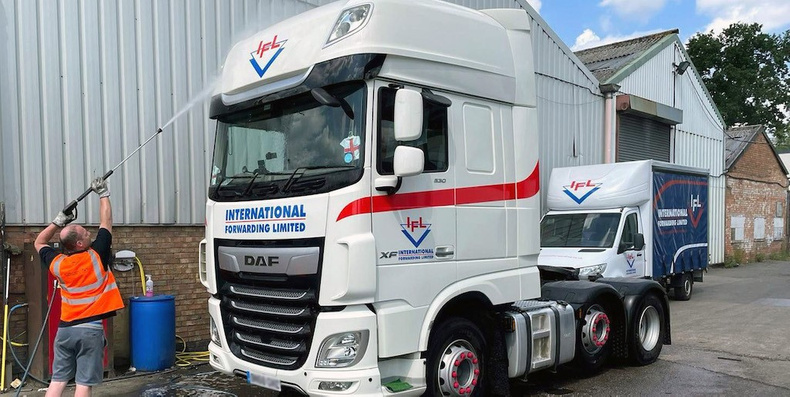 Cleaner trucks mean cleaner air for Birmingham and beyond. International Forwarding (IFL) has recently invested £200,000 in new transport equipment to step up to the new Birmingham Clean Air Zone initiative.
We have added two new DAF tractor units, new trailers and a new Mercedes Sprinter van to the fleet to help reduce our carbon footprint. The new vehicles are compliant with the EU's Euro 6 standard, introduced in 2015 to reduce pollutants from vehicle exhausts.
Reducing air pollution is an ongoing challenge for the UK freight and transport industry. These fleet upgrades are part of our ongoing programme to reduce emissions. They also enable us to continue to service businesses in Birmingham city's new Clean Air Zone (CAZ).
Birmingham is the second city - after Bath (and central London) - to introduce a Clean Air Zone. The Birmingham CAZ launched on 1 June 2021 and covers an area of the city centre inside the A4540 Middleway (excluding the Middleway itself).
The initiative aims to improve air quality in the city centre. It is part of a wider UK plan for tackling roadside nitrogen dioxide concentrations by discouraging the most polluting vehicles from entering the zone.
From 14 June 2021 HGVs that do not meet the emission standards for the zone are subject to a £50 daily fee, unless a valid exemption is in place.
With massive growth in the home delivery sector due to Covid-19 and an ongoing driver shortage, it is more important than ever to transport our freight in the most efficient way.
As an established Birmingham freight forwarder, IFL has been providing cost-efficient freight and logistics services to the Midlands economy for over 30 years. We are CAZ-compliant, are members of the Palletways pallet network for added freight transport efficiency, and look forward to working with clients within the Birmingham Clean Air Zone.
If you need freight forwarding help or access to warehousing space, please do get in touch and we'll do our best to assist you.
Further information on freight forwarding to the UK and Europe, as well as pallet transport and warehousing service, please visit us at https://internationalforwarding.co.uk.
For a free quote email our team at enquiries@internationalforwarding.co.uk or call +44 (0)1675 434690
Andy Grubb
Sales Director
International Forwarding