Solihull school prepares for Coronation celebration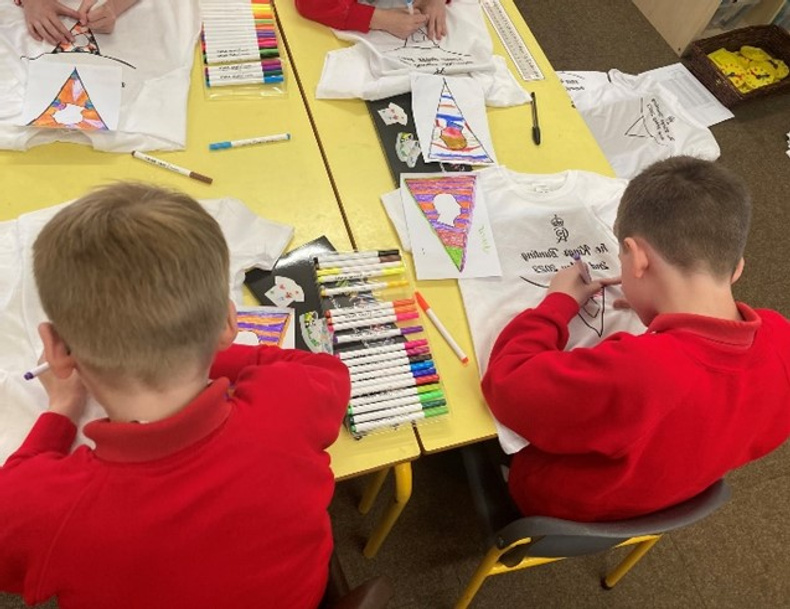 Balsall Common Primary School recently prepared to celebrate the Kings Coronation by having their own Kings Bunting Parade.
They invited along some special guests, including Professor Helen E Higgson OBE DL, vice Lord-Lieutenant of the West Midlands, the Mayor and Mayoress of Solihull, the Mayor and Mayoress of Coventry, previous Solihull Chamber of Commerce president Tony Elvin, Lions president Jerry Phelps, local and parish councillors, PTA Chair Angela Perrett, fundraiser and supporter of the school Mikey Akers, and many more.
King Charles III was first signed in by Mrs Lowe and then welcomed by Howard Rose BEM, Funding & Publicity lead and deputy head Neil Ireland.
Preparation began weeks prior to the event with children designing their own very special bunting to go on their t-shirt for when they formed a human chain of bunting as the finale to the day.
They also began planning cake designs for the cake competition. The designs fitted in with the celebration as a huge variety of crowns and Union Jacks were seen to celebrate the big day.
After an assembly packed with local dignitaries and a speech from the Kings own representative for the West Midlands, Professor Helen E Higgson OBE DL, it was outside for the Grand Parade, cake winners ' presentations and for some an interview for ITV Central News, and BBC CWR.
Howard Rose BEM, said: "What an absolutely fantastic day, one that I am sure will be remembered forever by all that took part. A huge thanks must go out to all the dignitaries that attended and all of our volunteer helpers. "
Tony Elvin said: "The whole school should be very proud of this afternoon 's event. Perfectly behaved and hugely engaged students whom are a real credit to the teachers and leadership team. "