Surviving the cost of business crisis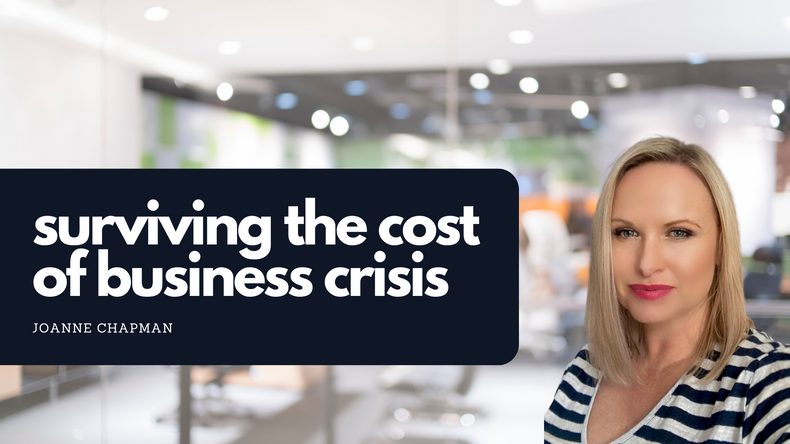 Forget the cost-of-living crisis. We need to be talking about the cost-of-business crisis.
The events of the past two years both at home and overseas feel nothing short of a perfect storm and, worse still, one that sets to rage on for some time.
And it's not just one thing either. It's a series of issues ranging from the hangover from Brexit, the impact to supply chains, the rising cost and availability of materials, access to skilled labour, the COVID pandemic, our fractured government, and the war in Ukraine, to name a few!
Inflation has skyrocketed, National Insurance costs have gone up, energy prices have soared, and we've also seen the inevitable rise in interest rates - which is a trend that looks set to continue over the coming months and years.
Just consider for a minute the seismic impact that the COVID pandemic has had on working habits and employee expectations and then what this means for business owners.
No-one would ever argue that demand for a healthier work-life balance is a negative consequence, but we mustn't overlook the fact that this so-called 'awakening' has led to unprecedented resignations and severe challenges in recruiting, and holding on to, staff for so many businesses.
All of this uncertainty has led to a sharp rise in the cost of doing business and placed firms of every size, and across every industry, under significant pressure.
The reality is that much of what is happening is outside of our control. So, the only solution, under the circumstances, is to focus on that which you can control and influence - namely how well your business is funded and how efficiently it operates.
But it's not all bad though. According to research carried out by Lloyds Bank in June 2022 as part of their Business Barometer survey, underlying business confidence remains consistent with historic levels - despite the considerable challenges facing UK businesses right now.
In this article, I hope to offer a more positive outlook by offering some helpful tips to help your business weather the storm, to support you in taking back some control and to successfully navigate through these turbulent times.
Focus on cashflow
The first of my tips is around ensuring your business remains cash buoyant. I've come across countless businesses that enjoy solid turnover but lack the ready cash needed to keep the business afloat. We all know the old adage, 'cash is king'.
Well right now, this has come into even sharper focus. If you have less than favourable payment terms with your clients, have you considered speaking to a commercial broker about Invoice Financing?
This could help you release cash tied up in your pending invoices that can be used to support the business in the short term. Yes, there's a cost to doing this but it can make all the difference if cashflow is your biggest issue right now. Speak to your accountant or commercial finance broker to see if this could be a viable option for your business.
Grow the business
If you're not growing your business these days, you're not even standing still - you're going backwards! With inflation hitting double-digits, the cost of simply being in business these days means that if you are not growing year-on-year, you're actually receding.
It's costing you in real terms. Growth can be hard to achieve and maintain during an economic downturn but if you are looking to expand or grow your business, there are countless resources available to support you in achieving this.
Speak to your local authority to explore any grants or loans available to you. If you want access to private funding, speak to a commercial broker. You could also consider contacting a firm that specialises in accessing allowances and tax relief available for businesses to help unlock funds that could be used to fuel continued growth.
Seek out new opportunities
I'm a firm believer in the philosophy of 'as one door closes, another one opens'. You might assume that in these challenging times, new opportunities are scarce and unlikely to materialise.
In reality, tough times often create new and exciting opportunities for those who can think outside the box, embrace new ways of working and forge new markets. And don't forget, in some cases the difficult trading conditions may see your competition dwindle, thereby presenting you with space to expand and absorb new clients.
A collaborative approach may also work well - perhaps you could partner with other firms who offer complementary services that enhance your proposition and make you even more competitive. Either way, a creative and resourceful approach might be just what the business needs to both seek out and take advantage of any new opportunities in the current climate.
Improve efficiency
Operating a more efficient business will logically help to reduce costs and go some way to offsetting the rising costs of doing business.
Look for areas of inefficiency or wastage in your organisation and establish more streamlined ways of doing things, where possible. Technology is so advanced these days that there are typically Apps that do everything - including helping to optimise processes.
Rather than outsourcing tasks, look at ways in which you can keep certain activities in-house and use technology to support you. In our business, for example, we recently used Canva to produce a well-designed brochure that would have cost thousands of pounds and man hours to have designed and edited.
We still used a local printer to have them produced (our way of still supporting local business) but this was a great way to save on what would have otherwise been a significant expense for the business.
5. Protect the business
Most companies have commercial insurance policies designed to protect the business against several internal and external risks. Unfortunately, these policies don't provide protection against the single biggest financial threat to any business, and that's the loss of key personnel.
According to research by Legal & General, 94 per cent of companies recognise they have at least one key person and 60 per cent of respondents admit that they would likely cease trading within a year of losing them.
Products such as Keyperson cover, Loan Protection and Shareholder Protection can provide businesses with critical financial support when an owner or key employee gets injured, falls ill, or dies unexpectedly - and this happens more than you realise.
So, one of the most important ways to ensure you can survive the current crisis is to reduce the financial risks to your business by protecting the very people that keep it running. Speak to a company protection broker about the types of plans available and how they might help you de-risk your business.
6.Support employee wellbeing
You have to spend money to save money. Sounds strange but bear with me. As I mentioned earlier, staff resignations are at unprecedented levels, and it can be very hard for business owners to both find and retain good people right now. So, when you do have a good team around you, make sure you invest in their wellbeing through products and support services that add 'real' value and are likely to keep them in their jobs.
Yes, there is likely to be a marginal cost involved but many of these can be tax-efficient and ultimately, the cost is nothing compared to the price you will pay if you lose someone critical to the success of the business.
Consider offering either individual or group-risk benefits such as life insurance, income protection, critical illness or health insurance that can provide tangible financial support to the employee or their family if something goes wrong.
These can also be used to attract new talent too. Have you thought about offering financial wellbeing workshops as a way of helping your staff to gain confidence and manage their money better throughout this cost-of-living crisis? It's often the little touches, such as these, that can make the biggest difference.
Joanne Chapman is the Founder of Futura Business Finance. She helps businesses access the funding they need to grow and succeed.