Tech boss receives President's Medal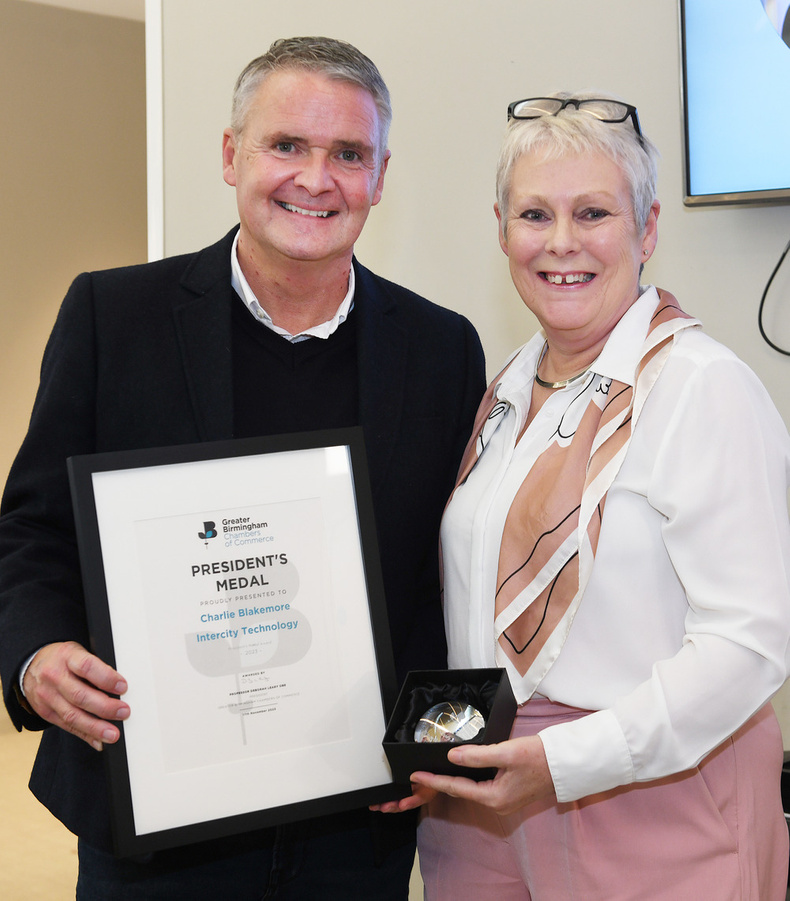 A businessman with "an attitude that is focused on the art of the possible" was the recipient of outgoing Chamber president Deb Leary's President's Medal at Friday's annual general meeting.
Intercity Technology group managing director Charlie Blakemore was the recipient of the award during the meeting at Edgbaston Park Hotel.
Deb Leary said: "It is with great pleasure I present my final President's Medal to Charlie Blakemore and Intercity.
"Charlie and the team at Intercity get what 'good business' is all about. Innovative, creative, inclusive, client and supplier and community focused, Charlie and Intercity as a whole, are true champions of the city and this region.
"As regards Charlie, he's simply a great business leader with an attitude that is focused on the art of the possible.
"The first time I met Charlie was the day I became president. Since then, I have had the pleasure of working alongside him on the Chamber board.
"As my term ends, it is fitting that I now have the opportunity to present this award to a business leader and a company that I truly feel represents business excellence and whom has shared my journey from start to finish."
Charlie, who is also a GBCC board member, began his career as a mechanical engineering apprentice and has held senior roles in the land, maritime and air sectors of global defence and aerospace company BAE Systems.
He joined Intercity in 2018 as group managing director. Charlie also managed non-league club Chasetown FC over an eight-year period – making history by leading them to the third round of the FA Cup.
Meanwhile, three long-standing Chamber members were recognised during the AGM.
Awards were presented to Crowne Plaza Solihull (34 years), Thomas Fattorini Ltd (58 years) and Art Business Loans (25 years).
Pictured: Charlie Blakemore with Deb Leary