Top tips for businesses in 2022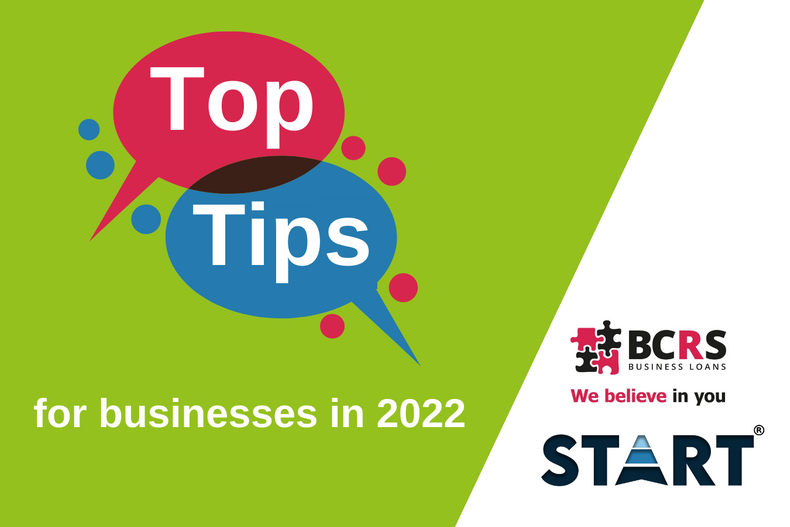 After two years of continued uncertainty the landscape for business owners in every industry has changed dramatically. Coronavirus has presented new challenges, altered directions and, in some cases, given people the push to start their own ventures.
With new variants cropping up every few months it's safe to say entrepreneurs will have to adapt rather than return to 'business as usual'.
In this article BCRS Business Loans and Start.Biz have teamed up to outline some top tips for business owners to take on board in 2022.
Protect your IP (Intellectual Property)
If you're bootstrapping or looking to cut costs, applying for a trade mark or other IP protection may not be the top of the list. However, it can be less expensive than you think and could save your company a lot of money and headache in the future.
Firstly, speak to an expert about what assets can be protected under IP law and which types of IP protection apply. For example: a patent, a trade mark, registered design, business name protection from 'Passing Off'. This will enable you to make an informed decision on how best to proceed. You can instruct a lawyer however they can be costly and there are IP specialists that could assist for a fraction of the cost.
Visit Start.Biz for more information about a no-obligation IP audit.
Know Your Finance Options
Business Loans:

There is a temptation in turbulent times to batten down the hatches and weather the storm. However, as many of us appreciate now, times have changed, and we need to change with them.
Now may be the right time to expand your business, take on a new project or invest in growth plans. We advise you to look at all the different sources of finance available to you.
BCRS offer business loans from £10,000 - £150,000 to businesses across the West Midlands that don't tick all the boxes at other lenders. As a not-for-profit lender, they are able to take a human approach to lending, basing their decisions on you and your business, not a computerised credit score.
BCRS Business Loans is also a delivery partner for the Recovery Loan Scheme (RLS). Visit our website for more information about business loans.
Grants:
In some cases, there are still grants available to businesses that have been negatively affected by coronavirus. Even if you've exhausted or been turned down for other grants there is help available. This article from Enterprise Nation outlines grants broken down by local council. Check it out here.
Alternatively, you can set up free grant alerts that are delivered directly to your inbox to ensure you don't miss anything. Simply search 'free grant alert' and sign up to one that suits you.
Get online
This won't apply for everyone. Some business has to be done face-to-face but consider how you could diversify your business. Is there another avenue you may not have considered before? For example, many restaurants that hadn't considered doing take-away pre-pandemic used this as a lifeline during lockdowns.
It's all about not having all your eggs in one basket and thinking creatively about how your offering can reach your audience through different channels. If you have setup online, that's fantastic! We would advise reviewing your online customer journey every few months. Setting up a review platform to build trust in your brand and regularly posting on social media to ensure you are reaching your target market.
Looking out for one another
It's not just the bottom line that has been affected by the pandemic, it's the people within your business as well. Working from home, endless Zoom calls, staff sickness, and general uncertainty has meant we've all had to review our relationships with work.
We recommend having a communication platform that team members can use to ask questions or just to keep in touch with one another.
If you'd like to find out more about how BCRS Business Loans and Start.Biz could support your business, discover more on our websites: