Vending machine services well suited to the manufacturing industry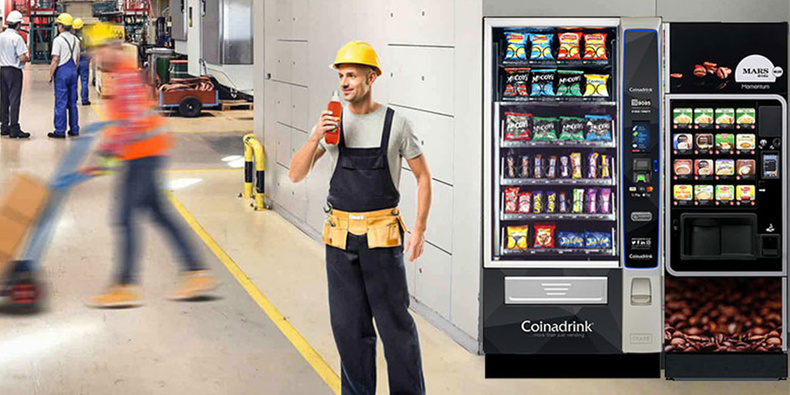 The United Kingdom remains one of the top 10 manufacturing nations worldwide, so it's clear that we are heavily reliant on the industry. Providing the adequate facilities to ensure employees remain engaged and productive in their role is therefore vital. And a vending machine is a fantastic on-site refreshment solution that will deliver everything you want and need.
Coinadrink Limited delivers a high-quality vending machine service tailored to suit your requirements. From hot drinks and cold drinks to snacks and fresh food, plus even water services, our vending solutions are designed to be convenient and hassle-free.
Vending machine services well suited to the manufacturing industry
Coinadrink has 59 years' vending experience and our trained team benefit from such longevity. We will work with you to understand what it is you need, before diving deep into a collection of high-quality vending equipment at our disposal.
In such a fast-paced working environment, the grab-and-go nature of a vending machine makes it an unbeatable on-site refreshment solution. All of our vending solutions deliver high quality products at lightning-fast speeds. This includes the Klix in-cup vending machine, which dispenses hot and cold drinks in just 17 seconds!
According to a study by Global Manufacturing 2016, engaged employees in the manufacturing industry are 70% more productive than those who aren't. Coffee breaks and taking regular time out is a great way wind down and engage with colleagues. And a vending machine from Coinadrink Limited makes it easy.
A hassle-free vending machine service
Larger sites in the manufacturing industry will benefit from a fully operated vending machine service.
You haven't got time to manage your on-site refreshment solutions in addition to your daily duties, so Coinadrink Limited will install as many vending services as you require and manage them all with ongoing maintenance and replenishment.
We guarantee to keep your workforce positive and productive with fully stocked vending machines that are durable and reliable. We do this by understanding and anticipating machine usage with bespoke internal software, so we can arrange site visits appropriately.
Choose to intertwine your services into your dedicated breakout area, promoting a calmer environment where staff can go for time out. You can even have your equipment professionally housed into custom designs similar to what you can see below. Just imagine how this can help transform your workplace culture and help attract and retain star talent moving forward.
We understand that vending can be somewhat of a niche field, so we take the hard-work out of it. Coinadrink promises to be here for you every step of the way and you'll have a dedicated account manager who you can contact at any time. We will also make it our own duty to check in with you ourselves as part of a pre-agreed schedule.
What about potential downtime? Whilst Coinadrink closely examines vending machine reliability when cherry picking our equipment from a multitude of suppliers, it's regrettable that no company can ever guarantee zero faults. Because of this, we deliver the fastest response time in the vending industry at under 2 hours from when you first call in. Just another way we provide a hassle-free vending machine service.
A simple vending machine service from start to finish, delivered via equipment that is well suited to the harsher nature of the manufacturing industry.
Vending solutions fit for a post-Covid world
A recent study found that 61% of employees in the manufacturing industry expect to have access to more digital tools as we creep towards a post-Covid world.
The vending industry has always been forward-thinking and the past 12 months have seen new contactless equipment introduced that is designed to deliver greater peace of mind in every single workplace across the country.
Experience barista-style coffee or beautifully filtered water without physically touching your equipment. This eliminates shared touch points in a manufacturing environment that contains a high volume of staff, and therefore delivers added peace of mind during a time that we need it made.
In addition to our contactless vending and water services, all of our equipment comes equipped with pro-active hygiene protocols as standard. This includes a proven bespoke sanitisation procedure that no other vending company in the entire country has.
The Micro Market solution for your manufacturing site
And for those who need more than vending, have you considered our Express Refreshments Micro Market? Strongly regarded as the future of the traditional workplace canteen, a Micro Market delivers countless benefits for larger workplaces.
We tailor a convenience store for your workplace, equipped with fresh food, hot and cold drinks, snacks and more. The Micro Market is open 24 hours a day which makes it useful if your team often operate shift patterns, and the open nature of the market means they can stagger their break times as so to conform to social distancing.
A key benefit of the Micro Market is that it is unmanned. Not only does this enable 24/7 availability, but it also eliminates the need to come into contact with a cashier. Instead, the employee utilises a self-service payment terminal that is completely cashless.
Our Micro Market is handled by Express Refreshments, a division under the umbrella of Coinadrink Limited. This means you will receive the same high quality vending service, with a fully managed solution that doesn't require you to lift a finger.
Well suited to the fast-paced manufacturing industry, could the Micro Market be vending innovation well suited to your requirements?
Streamline manufacturing efficiency with vending machine services
It goes without saying that speed, efficiency and productivity are necessities when operating in the manufacturing industry. A vending machine or a collection of vending machine services provides the fuel your team need.
Contact Coinadrink Limited today to upgrade your working environment for the benefit of your employees and the benefit of your company. We would be more than happy to have a zero-obligation discussion into how our vending solutions can work for you.
Alistair Ward
Coinadrink Limited