West Midlands-India economic ties strengthened by trade and investment mission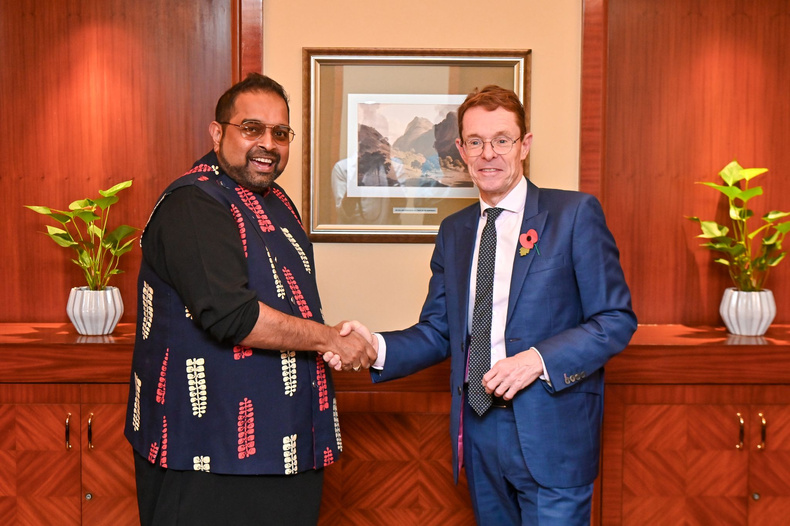 A trade mission formed of business and political leaders from the UK 's West Midlands has resulted in a number of strategic partnerships and announcements that are set to strengthen the region 's economic relationship with India 's sub-regions.
Led by West Midlands Mayor, Andy Street, the delegation visited Chennai, Hyderabad, Mumbai and Delhi. Focusing on three key areas - emerging digital technologies, low carbon mobility and data-driven healthcare - the mission built on the ongoing negotiations for a new Free Trade Agreement (FTA).
Exploring opportunities for bilateral trade and investment between India, the West Midlands and the wider UK, the mission aimed to build more prosperous communities in both the UK and India.
During the visit, the delegation attended a series of meetings and events, organised by the West Midlands Growth Company (WMGC), with support from the Foreign, Commonwealth & Development Office (FCDO).
These involved senior figures from leading Indian businesses, including multinational manufacturer Tata Group, motorcycle manufacturer TVS and automotive manufacturing group Mahindra and Mahindra.
The delegation also visited the Hyderabad offices of Coventry-headquartered data specialist, Kagool and a number of industry hubs, including start-up incubator, T-Hub and the Bombay Stock Exchange (BSE).
The mission saw the creation of a number of business focused MoUs (Memorandums of Understanding), to advance key economic corridors. These included agreements between T-Hub and Birmingham City University 's STEAMhouse innovation centre; the University of Wolverhampton and the Data Security Council of India (DSCI); and the West Midlands Growth Company (WMGC) and Confederation of Indian Industry (CII).
From a cultural perspective, a further MoU was signed between the Birmingham Repertory Theatre and India 's National Centre for Performing Arts (NCPA).
Another key cultural announcement came at an event in Mumbai, where Birmingham City University (BCU) pledged to present award-winning Indian singer and composer, Shankar Mahadevan, with an honorary doctorate in 2023 in recognition of his outstanding contribution to music and the arts.
Andy Street, Mayor of the West Midlands, said: "In 2020, India accounted for half of all investment into our region. Covering business, tourism, sport and culture, our mission 's varied programme focused on what needs to happen to take this economic relationship to the next level, as discussions around a new FTA continue.
"During the week, we met with Indian businesses big and small to discuss key opportunities for collaboration, as well as signing a number of important MoUs. It 's clear that by working together, the West Midlands and Indian markets can both achieve significant value in the months and years ahead and I look forward to seeing this come to fruition. "
The trade mission was organised as part of the Birmingham 2022 Commonwealth Games Business and Tourism Programme (BATP), which will build on the profile created by the Commonwealth Games to attract visitors, trade, events and investment into Birmingham, the West Midlands and the UK from nations and territories across the Commonwealth, including India.
Pictured (L-R): Shankar Mahadevan and West Midlands Mayor Andy Street