Why vending machines are more popular than ever before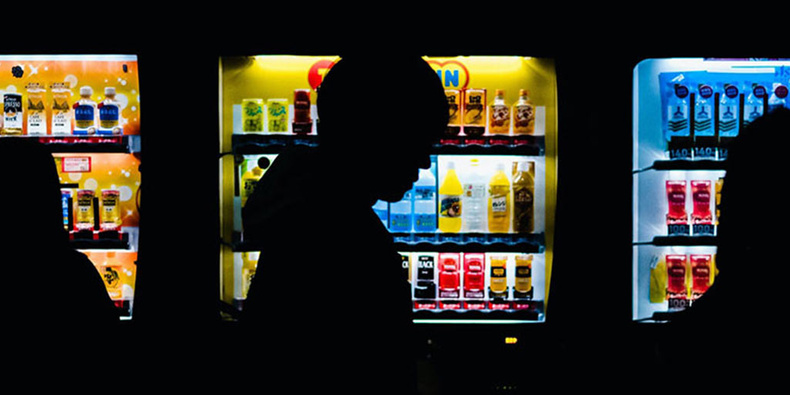 The BBC shared an article recently on how the vending machine is making a "comeback". We're pleased that the benefits of the industry are now becoming a hot topic for all to see.
The rise of the vending machine
Vending is one of the fastest accelerating industries on the market today. Now spurred on further by the Covid-19 pandemic, vending machines provide an unattended retail solution that works brilliantly for so many businesses and environments.
The characteristics of a vending machine make them a quick and easy way to source whatever you want, from coffee shop hot drinks to freshly prepared food. In just a few taps or touches your product is vended in less than 30 seconds.
This has always made vending a welcome refreshment solution for fast-paced industries, such as manufacturing sites. Larger environments also identify vending as a great alternative to catering, where they don't need to employ any additional staff to operate or take control of anything.
Coinadrink were able to take this idea even further with the introduction of our Micro Market in 2013. This is a self-service convenience designed for the workplace, offering a breadth of items that the customer pays for using an app or terminal.
Having spotted a gap in the market for this kind of solution (we were the first company to introduce it to the UK) it has gone from strength to strength. Automated Micro Markets saw a 367 per cent growth last year.
With higher-quality and broader products appearing, such as fresh bean coffee and vegan/healthier product choices, vending machines and the Micro Market have elevated themselves to become a valuable employee perk well suited to the modern world.
Now more than ever, employee wellness is crucial. Coffee machines, for example, are part of a bigger incentive to promote break times and strengthen working relationships with colleagues, whilst stocking healthier items such as low fat, low calorie and vegan choices encourages a better diet whilst at work. In fact, 2020 alone saw healthier eating from a vending machine rise by 147 per cent.
The icing on the cake from a business perspective is being able to have all these products regularly replenished exactly when they need to be. This is again driven by technology, where central management systems update stock in real time.
Such smart insights, coupled with a steady rise in payment solutions, means the vending machine can now almost replace traditional high street retailing.
Whilst vending has continued to grow, though, the fundamental basis of this facility remains largely the same: you make your selection and wait for it to be dispensed. This has actually helped to foster an additional benefit during the pandemic, hygiene.
The vending machine today
In many ways it could be argued that the vending machine has now gone full circle. From dispensing more unique products to focusing on more mainstream options such as food and drink, what vending machines can offer today is once again extremely varied.
The article from the BBC highlights a milk vending machine in the Republic of Ireland, set up as an alternative sales channel when Covid forced businesses to close. Coinadrink ourselves have provided milk vending machines in a few of our own personal projects, not to mention taking the time to explore all the other weird and wonderful machines dotted around the world.
Products range from a baguette vending machine in Paris to a live crab vending machine in the Zhejiang district, China.
In 2020, Coinadrink Limited got on board with PPE vending. As you'd naturally expect, this was especially popular with key workers who continued to operate during Covid.
The vending machine provided a safe and secure way to store a multitude of items, from face masks and hand sanitisers to goggles and ear protectors. It was easy to keep track of where stock was going, too, thanks to the user being given their own card tied to their account.
The reality is a vending machine today can be whatever you want it to be. It helps drive a shopping experience that is safer, healthier, more hygienic, and more convenient than ever before.