Fun Run clocks up more than £5 million over 40 years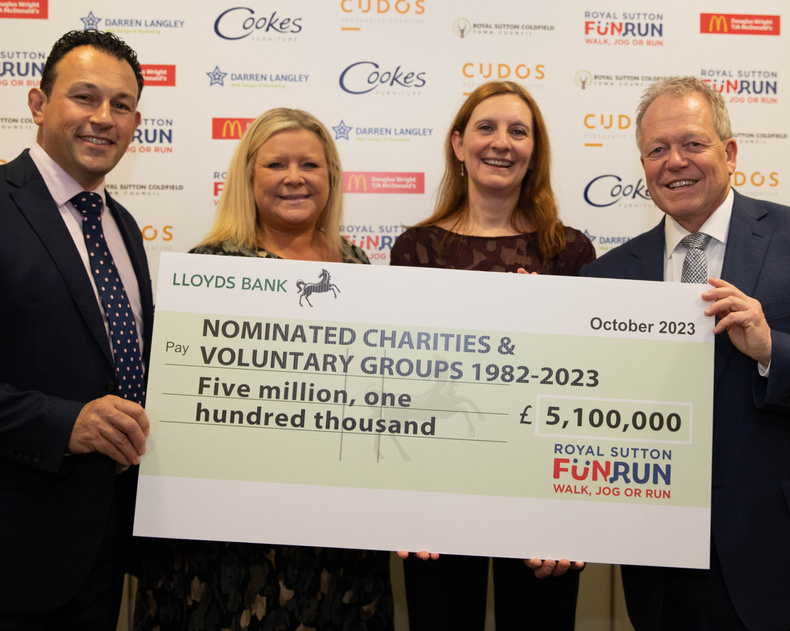 The Royal Sutton Fun Run has reached its own £5.1 million milestone after a marathon 40 years' fund-raising in aid of charity and voluntary groups.
A total of £187,100 raised by participants in this year's 40th Royal Sutton Fun Run has taken the overall total distributed since the first event in 1982 to £5.1 million.
Event director Tracey Spare said: "Astonishing, quite astonishing! No one back in 1982, the year of the first Royal Sutton Fun Run, could have envisaged the event would still be etched onto the annual calendar let alone having now raised and distributed more than £5million.
"This achievement is down to the effort of thousands of people from those who have helped to organise the event, volunteer help on the day particularly from the Scout and Guide movements, commercial partners, participants, and spectators.
"To have sustained the event over such a long time, through several economic recessions and of course most recently Covid lockdowns, is quite an achievement.
"Most importantly the event has stayed true to its core objective of providing a vehicle for people to enjoy a day with family, friends, or work colleagues, complete a challenging course around the royal town of Sutton Coldfield whilst raising money for a charity or voluntary organisation of their choice.
"It was a privilege and honour to take over the reins when my dad unexpectedly passed away in September 1990 and I've worked alongside some fabulous people who have all embraced the philosophy of the Fun Run.
"It's a proud moment to have reached a dual milestone in the same year - staging the 40th event and breaking through £5million having been raised by participants.
"I've personally missed one event in 1985, the year of my final degree exams, so I've banked a vast number of memories. However, standing at the start line and watching thousands of people stream out of Sutton town centre, up Mill Street on the start of their journey around the royal town, is the one moment that stands out every year and still gives me goose bumps.
"The Royal Sutton Fun Run has touched thousands of lives and supported thousands of charities and voluntary groups nominated by those who've done the hard work of raising sponsor money and then completing the challenging Fun Run course.
"As a result, the lives of many thousands of people with physical, learning, and emotional challenges have been improved."
Pictured (L-R) Fun Run directors, James Pike; Vanessa Hoe; Nicola Davies and Tracey Spare (event director)