Graduates celebrate regional academic first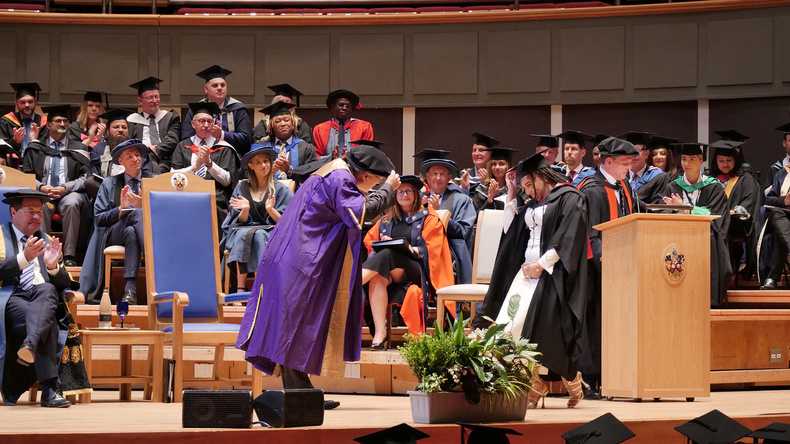 University College Birmingham graduates on University of Warwick accredited courses celebrated a slice of academic history - with the first successful graduating cohort from the partnership between the two universities.
The graduation ceremony saw over 300 students graduate at Symphony Hall in Birmingham on 13th September 2023.
Courses graduating as part of the ceremony include Finance and Accounting, Aviation and Airport Management, International Tourism Management, Culinary Arts Management, Enterprise Management and Sports Therapy.
Vice-Chancellor and Principal Professor Michael Harkin welcomed attendees along with Professor Stuart Croft, Vice Chancellor and President of University of Warwick.
Professor Harkin said: "Congratulations to all students graduating. The partnership between University College Birmingham and the University of Warwick has already offered opportunities and experiences to hundreds of students, providing life-changing education to ensure our students are well-placed for a flourishing career.
"Together, we are delivering on a commitment to do more for our students, our staff, our industry partners, and our region. As new graduates embark on their careers, our students have now become a part of delivering on that commitment. We are already very proud of the achievements of our graduates, the contributions that they are making to their communities, and the examples they have set for future University College Birmingham graduates, and we will continue to celebrate their ongoing successes."
Professor Croft said: "The partnership we have with University College Birmingham is unique, working together to transform the lives of students and helping to deliver many of the skills that will be highly sought after by local employers for our region. I am pleased to see the first cohort graduating with degrees accredited by The University of Warwick. We wish them every success with their future careers."